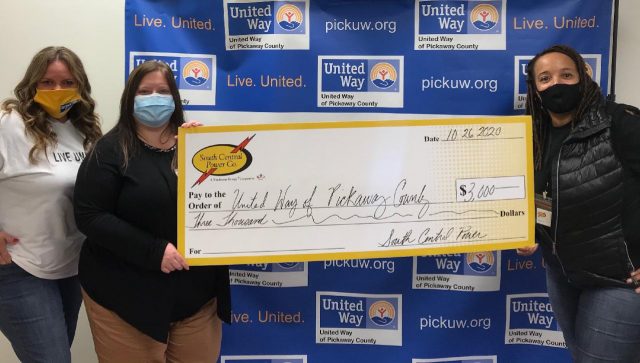 South Central Power Company, a Touchstone Energy Cooperative, has donated a $3,000 contribution to the United Way of Pickaway County's (UWPC) annual campaign. As an energy partner, the cooperative exists to deliver safe, reliable electric service that adds value to the lives of our members.

The United Way of Pickaway County would like to extend our sincerest appreciation for South Central Power Company's unwavering support of our community through this generous donation. Annually, the UWPC partners with an array of vested community partners and donors to source funds for 16 local nonprofits grounded in locally sourced impact areas of education, health, income support, and safety net services. 
Specifically, these funds are used directly for our annual grant application pool where we have approved over $336,000 in donations since 2019. Our 16 partner programs apply each fall for funding for initiatives that range from homelessness prevention and a tax clinic to domestic violence assistance and after-school childcare among other incredibly worthy causes.
More information on United way or the causes they support can be found on their facebook page or website.