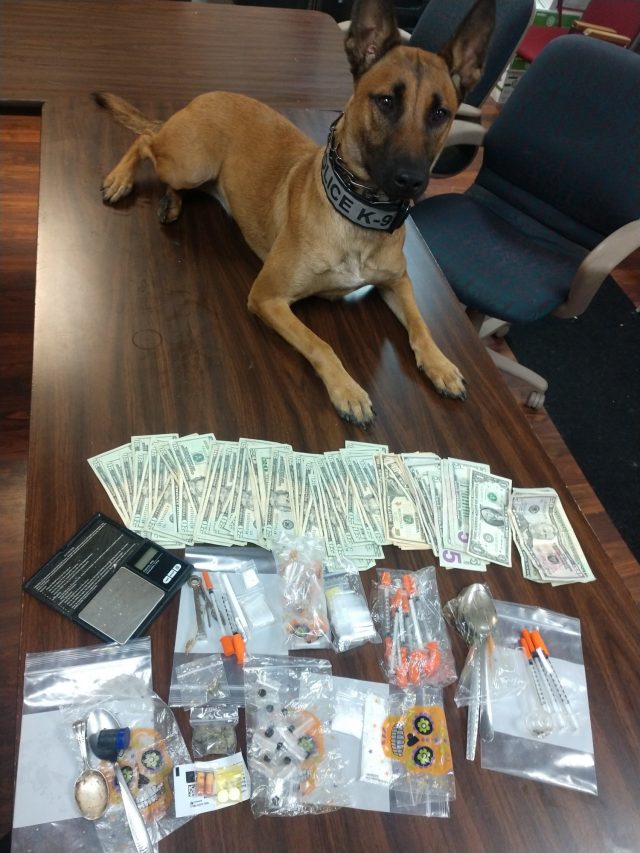 MCArthur – On October 6, 2019 at approximately 2058 hours, McArthur Police officers were called to the Dollar General store on North Market Street McArthur, OH to a report of two women attempting to shop lift items from the store. Officer arrived and began to investigate the complaint by talking to the women, identified as Tasha Kuhn, age 35 of Wellston, OH and Rebecca Wright, age 33 of Radcliff, OH. Officers learned that both Kuhn and Wright had warrants from other agencies. Kuhn and Wright were then placed under arrest for the warrants. A search incident to arrest was conducted on Kuhn and Wright. Officers located substances believed to be heroin and methamphetamine, as well as syringes, a large sum of cash and other drug paraphernalia.
Officers were able to identify the vehicle that the two women had gotten out of in the parking lot. Captain Thomas Heaton was able to use Canine Officer Zara to do an exterior sniff of the vehicle. Zara gave a positive indication of presence of illegal substances in the vehicle. After a search of the vehicle more narcotic and drug paraphernalia were located in the vehicle. Tasha Kuhn was turned over to the agency holding the warrant. Rebecca Wright was released from the scene after the other agency did not want her held on the warrant.
The case will be sent to the Vinton County Prosecutor's Office for review of possible charges.