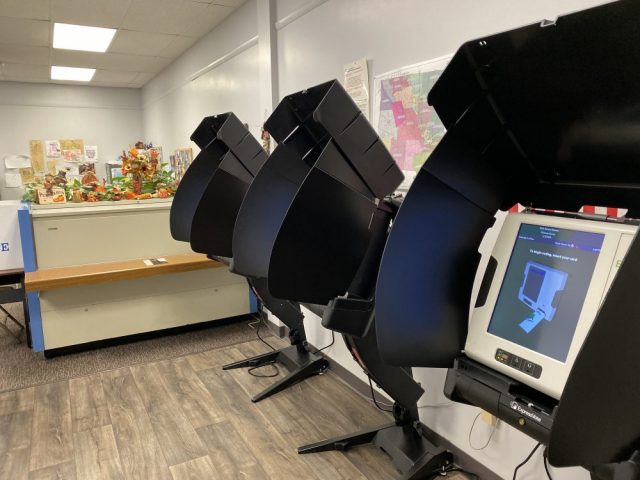 PICKAWAY – The Pickaway County Board of Elections met Monday morning to review the petitions filed for the November 2 general election.
Seventy-four candidates were certified to the November ballot for offices in local villages, townships, and on boards of education.
(Candidates can also be seen online at the Board's website: Candidate Filing Information – Pickaway (ohio.gov) (Valid – certified to the ballot; Invalid – not certified to the ballot; Pulled – came to the office to get a petition but did not file))
Additional candidates will be added to Pickaway County ballots as neighboring counties certify their candidates. (Adena, Miami Trace and Southwestern City school districts, Ross County Board of Education and Harrisburg Village Council)
These candidates will join candidates for offices in the City of Circleville who were nominated during the May primary along with the candidates vying for the 15th Congressional seat who advanced following the Aug. 3 primary.
Along with the candidates, the Board also certified several issues to the ballot.
Full county:
Pickaway County Senior Citizen Services levy – 0.75 mill renewal for five years for maintaining and providing services
Paint Valley ADAMH – 1 mill renewal for 10 years for current operating expenses (Ross, Fayette, Highland, Pike and Pickaway counties)
Villages, Townships and Fire Districts:
Village of Williamsport – 3.65 mills replace and increase (from 2.5 to 3.65) for providing ambulance service, emergency medical service, or both.
Village of New Holland – 1 mill for five years for current operating expenses
Village of New Holland – 1 mill for five years for operation of the police department
Village of Tarlton – 2.5 mills renewal for five years for current operating expenses
Washington Township – 1 mill fire levy for a continuing period replacing two .5 mill levies
Adena Local School District – 1 percent income tax for 10 years for permanent improvements (Ross and Pickaway counties)
Sterling Joint Ambulance District – 1.8 mills renewal for five years for operating expenses (Madison and Pickaway counties)
Southwest Pickaway Fire District – 2 mills renewal for five years for operating expenses
Southwest Pickaway Fire District – 1.8 mills bond issue for 30 years for constructing a new emergency service, equipment storage and maintenance building
Tri-County Joint Fire District – 2.5 mills replacement for five years for current operating expenses (Madison, Fayette and Pickaway counties)
Candidates who are on the ballot in different areas of the county:
COUNCIL – ASHVILLE ANDREW L. HITE
COUNCIL – ASHVILLE RANDY LOVELESS
COUNCIL – ASHVILLE R. DAVID RAINEY
COUNCIL – ASHVILLE MATTHEW SCHOLL
COUNCIL – ASHVILLE STEVE WELSH
COUNCIL – COMMERCIAL POINT DUANE ROSS CREGO
COUNCIL – COMMERCIAL POINT CHUCK CUNNINGHAM
COUNCIL – COMMERCIAL POINT NANCY GEIGER
COUNCIL – COMMERCIAL POINT ERIC D. NUNGESTER
COUNCIL – COMMERCIAL POINT JASON W. WEST
COUNCIL – COMMERCIAL POINT LAURA WOLFE
COUNCIL – NEW HOLLAND DANNY KIRKPATRICK
COUNCIL – NEW HOLLAND FLOYD A. WOOLEVER
MAYOR – NEW HOLLAND (UNEXPIRED) TROY HUPP
COUNCIL – SOUTH BLOOMFIELD DEBBIE JONES
COUNCIL – SOUTH BLOOMFIELD TOM RAMSAY
MAYOR – SOUTH BLOOMFIELD (UNEXPIRED) MATTHEW V. PETTIBONE
COUNCIL – WILLIAMSPORT MATTHEW FIELDS
COUNCIL – WILLIAMSPORT TRACEY GARRETT
FISCAL OFFICER – HARRISON (UNEXPIRED) LINDSAY MAYSE
FISCAL OFFICER – MADISON (UNEXPIRED) NICOLE BITLER
FISCAL OFFICER – MADISON (UNEXPIRED) ROSS LARUE
MEMBER OF GOVERNING BOARD OF EDUCATION – PICKAWAY DAN LITZINGER
MEMBER OF GOVERNING BOARD OF EDUCATION – PICKAWAY JEANINE LEIST MCDOWELL
MEMBER OF GOVERNING BOARD OF EDUCATION – PICKAWAY BETHANY L. REID
MEMBER OF GOVERNING BOARD OF EDUCATION – PICKAWAY DALE THOMAS
SCHOOL BOARD MEMBER – CIRCLEVILLE JOE KLUCZYNSKI
SCHOOL BOARD MEMBER – CIRCLEVILLE TERRY M. LEASURE
SCHOOL BOARD MEMBER – CIRCLEVILLE NICKOLAS P. PERINI
SCHOOL BOARD MEMBER – CIRCLEVILLE PATTY TRUEX
SCHOOL BOARD MEMBER – LOGAN ELM MICHAEL J. AGOSTA
SCHOOL BOARD MEMBER – LOGAN ELM MATT KIM
SCHOOL BOARD MEMBER – LOGAN ELM SCOTTY LESTER
SCHOOL BOARD MEMBER – LOGAN ELM MICHAEL LINTON
SCHOOL BOARD MEMBER – LOGAN ELM DEBORAH A. SHAW
SCHOOL BOARD MEMBER – LOGAN ELM JASON M. SNYDER
SCHOOL BOARD MEMBER – TEAYS VALLEY CHARLES D. MORRISON
SCHOOL BOARD MEMBER – WESTFALL CHRISTY RIGSBY
SCHOOL BOARD MEMBER – WESTFALL SEAN RUTH
TRUSTEE – CIRCLEVILLE ERNEST R. ENOCH
TRUSTEE – CIRCLEVILLE BOB KUHLWEIN
TRUSTEE – DARBY CHRIS CREAMER
TRUSTEE – DARBY JAMES M. CORDER
TRUSTEE – DARBY LARRY J. CARFREY
TRUSTEE – DARBY (UNEXPIRED) CLYDE OHNEWEHR
TRUSTEE – DEERCREEK C. RANDALL METZGER
TRUSTEE – DEERCREEK WILLIAM D. KELLER
TRUSTEE – HARRISON DONNIE MAYSE
TRUSTEE – HARRISON JAMES C. DEAL
TRUSTEE – HARRISON MICHAEL J. FREEMAN
TRUSTEE – JACKSON IAN M. FAUSNAUGH
TRUSTEE – JACKSON L. JAY WELSH
TRUSTEE – MADISON AUSTIN E. BROWN
TRUSTEE – MADISON RYAN A. SMITH
TRUSTEE – MONROE GARY L. MOORE
TRUSTEE – MONROE TED ROGERS
TRUSTEE – MUHLENBERG JEFFREY S. WIPPEL
TRUSTEE – MUHLENBERG KEITH HOWARD
TRUSTEE – MUHLENBERG R. STAN SUMMERS
TRUSTEE – PERRY JEFF REED
TRUSTEE – PERRY MARK VERNON
TRUSTEE – PERRY (UNEXPIRED) JAMES R. PECK
TRUSTEE – PICKAWAY MARK E. MARTIN
TRUSTEE – SALTCREEK AARON ADAMS
TRUSTEE – SALTCREEK JIM FOX
TRUSTEE – SALTCREEK JERRY S. HARPER
TRUSTEE – SALTCREEK DALE VALENTINE
TRUSTEE – SCIOTO RALPH W. WOLFE
TRUSTEE – WALNUT WARREN R. SPANGLER
TRUSTEE – WALNUT WILSON G. ETT
TRUSTEE – WASHINGTON DENNIS V. SHAW
TRUSTEE – WASHINGTON JAMES R. EWING
TRUSTEE – WAYNE BRENNA C. GIBSON
TRUSTEE – WAYNE KENNY DAVIS