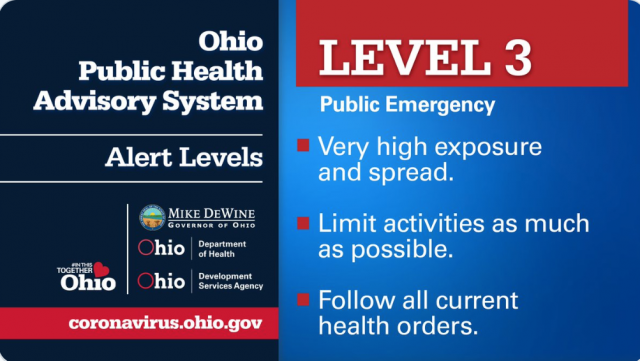 PICKAWAY – Scioto County Cases have spiked to higher numbers than ever reported in the county, more testing could be to blame.
Scioto County and Portsmouth City Health Departments reported three (3) new positive COVID19 cases for Scioto County yesterday July 15, 2020.
The three (3) new cases brings the total of positive COVID19 cases to 88 since the outbreak, including 49 females and 39 males.
The health departments also reported one more person has recovered from the virus bringing the total of recovered to 42 for the county.
Recently Dewine announced that Ohio is expanding testing and encouraged those who want a COVID-19 test, including those who are low-risk or asymptomatic, to talk with their health care provider or contact a testing location to arrange a test."Until now, we have very much had a scarcity mindset because we had a very real scarcity of testing resources, but that mindset needs to change," said Governor DeWine. "Testing is a very important weapon in our arsenal as we continue to wage war against a very real enemy. By understanding who is sick, whether they are showing symptoms or not, we are able to better prevent the spread of the COVID-19."
Governor DeWine also announced a series of "pop-up" testing locations, beginning with six locations in Columbus. These temporary testing sites will be available all over the state, including in Cincinnati, Cleveland, Portsmouth, Dayton, Xenia, Columbiana, Akron, and other locations.
Since available testing Scioto County has seen a rise in cases and now has moved to a red level 3.
"Scioto EMA has been notified by Scioto County Health Commissioner this afternoon that the Ohio Department of Health is moving Scioto County from a Level 2 (Orange) to a Level 3 (RED) Public Health Emergency.
Level 3: means there is a very high exposure and spread of the COVID19 virus. Citizens are advised to limit activities as much as possible." 
The move to Level 3: Public Health Emergency (RED) is based on the following criteria on:
1.  New cases per capita (47 new cases in past 14 days, representing 54 percent of our total cases.
2.  Sustained increase in new cases.  (Since 6/23, average daily number of new cases increased from 1 to more than 4) as of July 9
3.  Proportion of cases NOT in congregate settings (i.e. nursing homes, developmental disabilities group homes, assisted living).  This indicates community spread.
4.  Sustained increase in outpatient visits for COVID symptoms or diagnosis.  ) From June 23 – July 14, this increased from 1/day to 5/day.)
Dewine has released a new Ohio Public Health Advisory Alert System to help make clear the dangers happening in counties in #Ohio. The color-coded system is built on data to assess #COVID19 spread and inform and empower individuals, businesses, & local gov't in their response.