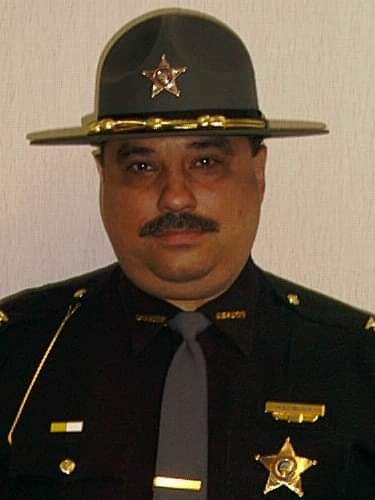 Scioto County OH- Hughie Blair, 70, went to be with our Lord on September 18, 2020. He was born August 25 , 1950 to Leroy and Lula Blair. He graduated from Portsmouth High School in 1969. Thereafter , Hughie dedicated his life to public service.
In 1971, he became a Deputy Sheriff at the Scioto County Sherriff's Office. He retired as Chief Deputy in 2004. He was commissioned for 43 years. Hughie's life in law enforcement and amongst the community was selfless, caring, humble and humorous, impacting every person he ever interacted with at levels not fully realized by him. He was also employed as a Secret Service Agent for the Office of the Prosecuting Attorney in Scioto County, and the Security Director at Portsmouth Metropolitan Housing Authority and the Portsmouth Receiving Hospital.
On February 14, 1999, he married his wife, Wanda Boggs Blair. Hughie was preceded in death by his parents; his brother, Johny Dale Blair; his sister, Ruby Miller; and his precious grandson , James Paul Rewakowsky. He is survived by his Wife; his daughters, Kristi Howard, Laura Blair, and Julie Cooke Hutchinson; his son, Tommy Cooke; his grandchildren, Brent Martin, Kylee Cooke, Lexee Cooke, Madison Carver, Hannah Hutchinson, Colton Hughes Cooke, and Gabriel Cooke; his brothers Arthur Blair and Kenneth Blair; and his sisters, Ann Roberts and Versell Aldridge. To his family he was absolutely heroic.
Hughie was a member of the Fraternal Order of Police, Lodge 187. He faithfully attended Christ's Community Church. For decades, he and Wanda enjoyed playing Santa and Mrs. Claus for numerous families throughout the county. He also enjoyed delivering meals on wheels with his beloved daughter, Kristi. Hughie held in high regard and regularly contributed to Christ's Community Church, the Wounded Warriors Project and St. Jude Children's Research Hospital.
A private memorial service will be held at Christ's Community Church. Law enforcement officers who wish to share memories with the family are requested to contact their Lodge for information. In lieu of flowers, donations can be made in Hughie's name to his church or the aforementioned charities.