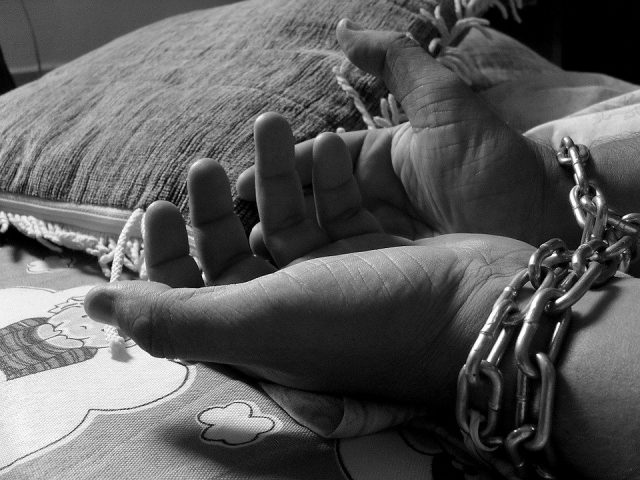 COLUMBUS, Ohio – The lead of 11 defendants charged in a Scioto County child sex trafficking operation was sentenced in federal court here today to 480 months in prison.
"Larry Dean Porter is a predator who manipulated and abused children and drug-addicted women in southern Ohio for many years. He used force, violence, and threats to coerce these vulnerable victims to engage in sex acts with him," said U.S. Attorney Kenneth L. Parker. "Though no sentence can undo the indescribable, despicable harm he caused, it is fitting that he will spend the rest of his life where he belongs – in a federal prison."
A federal grand jury originally indicted Larry Dean Porter, 72, of Wheelersburg, Ohio, and several of his family members and associates in June 2020. All 11 defendants have since been convicted.
Porter's physical and sexual abuse of women and children in Scioto County spanned numerous decades and involved additional victims other than those identified in the charged offenses in this case.
Porter exchanged drugs obtained in Columbus and elsewhere for sexual access to the children of drug-addicted parents and guardians.
Agents with the FBI's Child Exploitation Task Force began investigating Porter in April 2019 following reports from several sources that Porter was involved in sexually abusing male and female minors with the consent of the minors' parents in exchange for illegal drugs from Porter.
Porter sexually abused multiple children and produced child pornography that he kept on flash drives and used extreme methods to conceal, including by burying the flash drives in the yard surrounding his house.
In addition to sexually assaulting the children himself, Porter also instructed drug-addicted parents to sexually abuse children and recorded it to use as blackmail. Porter also used other methods of force, such as duct taping and tying women to chairs, burning them with cigarettes and firing guns by their ears, to ensure they continued to comply with his various sexual demands and remained silent about his crimes.
Porter's manipulation and sexual assaults of women and children took place several times a week for years. For example, several of Porter's co-conspirators took three children under the age of 10 to Porter's residence on a regular basis to traffic the children sexually in exchange for pills. The abuse occurred a few times per week for up to five years.
Porter was arrested in March 2020 on local charges during a human trafficking sting operation by the Jackson County Sheriff's Office.
After Porter was arrested locally, his friends and relatives – including two of his daughters and one of his cousins – attempted to destroy evidence and intimidate witnesses on Porter's behalf.
For example, family and friends dug holes in the ground on Porter's property to retrieve and attempt to conceal or destroy SD cards containing child pornography that had been buried in Porter's yard. Agents also found eight DVDs containing child pornography linked to Porter's home computer at the house of one of Porter's friends. Porter's cousin discussed in jail calls with Porter their plans to assault and potentially kill a witness they believed was a source for law enforcement.
Porter pleaded guilty on Aug. 10, 2022, to conspiring to engage in sex trafficking by force, fraud or coercion, child sex trafficking, and participating in a drug trafficking conspiracy. Porter was also ordered today to pay more than $300,000 in restitution to the victims.