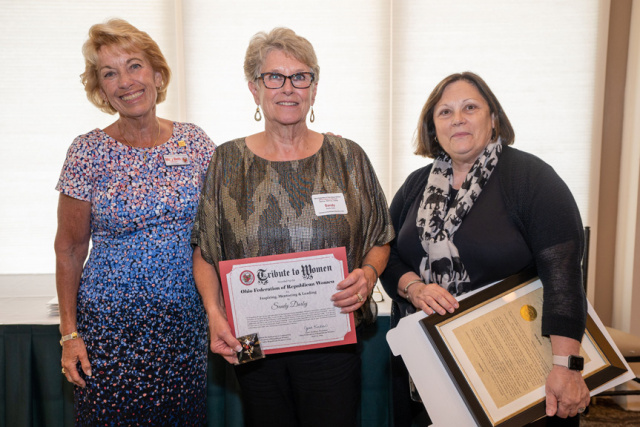 Recently, Sandy Darby of Circleville, Pickaway County, was honored by the Ohio Federation of Republican Women (OFRW) for her service in the cause of good government, professional accomplishment, and exemplary citizenship. Her profi le is attached. She is one of 18 women from around the state of Ohio honored during the 2019 Tribute to Women at Worthington Hills Country Club, in Columbus, OH. This biennial event honors a member from each participating local Republican women's club who is chosen for her achievements and contributions. Sandy is a member of the Pickaway County Republican Women.
The award was presented during a luncheon attended by about 150 guests. OFRW President Janet Kushlan and Vice President Mary Beth Kemmer presented each honoree a packet containing personalized citations from Governor Mike DeWine, Senator Rob Portman, her U.S. Congressman, the Ohio Republican Party, the National Federation of Republican Women, OFRW, and other organizations and offi cials. She also received a crystal patriotic rose spray pin and a long-stemmed red rose. Ohio Supreme Court Justice Sharon L. Kennedy gave a keynote speech documenting impressive contributions made by dedicated women in military and civilian life throughout the history of the United States.
The OFRW, founded in 1929, is affl iated with the National Federation of Republican Women (NFRW). It is a statewide organization of hundreds of members in constituent clubs. OFRW is the largest, most powerful women's political organization in Ohio, and provides the avenue for women to influence policy, develop candidates, and elect leaders of Ohio. OFRW is a multi-generational, multicultural organization that provides structure and support for political activists to learn, engage and flourish.
Sandy has served as president of the Pickaway County Women's Republican Club since 2012. She oversees PCWR's Annual Jingle and Mingle, the Bienniel Patriot Day Dinner, and various fund raisers. She is also the Ohio Federation of Republican Women District 12 vice president. Sandy has been elected to represent Scioto Township on the Pickaway County Central Committee, and was elected secretary in 2010, and vice chair in 2016. She helps setting up Lincoln Day dinners, the annual Fall Roundup, and various candidate Meet-and-Greets for the Central Committee. In 2014, she lost her race for county auditor to a fi ve-term incumbent by only 2%. Sandy served previously as Governor Mitt Romney's presidential campaign co-chair for Pickaway County. She has also been very active in campaigns for Senator Rob Portman, Ohio Attorney General Dave Yost, and U.S. Congressman Steve Stivers. Sandy and her husband Richard celebrated their 50th anniversary last October. They lived and worked in Pickaway County for most of their lives. After Sandy's retirement with 30 years of service from the Ohio Department of Transportation as the Fiscal Officer in the Officer of Traffic Engineering, the couple moved to Kentucky to care for her sick father. While in Kentucky, Sandy served as chair of the Greenup County Republican Party, on the Board of Elections, and on the Board of Ethics for the City of Greenup. She volunteered with Community Faith in Action, taking elderly people to doctors' appointments. Her service with the Pickaway County Central Committee began when she moved back to Ohio following her father's death. She and Richard attend the Heritage Freewill Baptist Church.