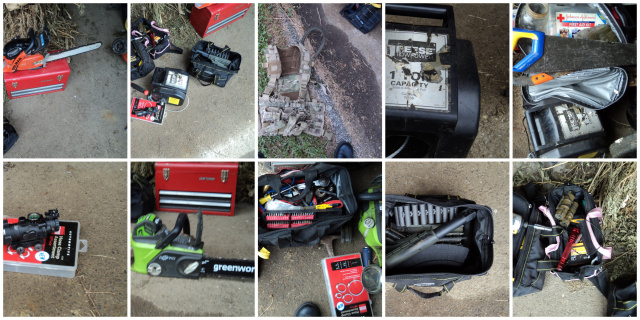 ROSS – Ross Sheriff says they caught two thieves during a investigation that lead to finding more items from other thefts, and now they are looking for the owners.
Yesterday my office was dispatched to the 2000 block of Liberty Hill Road in reference to the Breaking and Entering of a garage. Several items were taken.
During the investigation my deputies received information from the community that lead them to an address in the 3500 block of Black Run Road. Deputies discovered numerous items suspected to be stolen in the residence as well as in a vehicle located at the residence. These items were seized.
32 year old Jacob Steele and 35 year old Heidi Spurlock were arrested and charged with Receiving Stolen Property. Further charges are pending the completion of the investigation.
Photos of the recovered property are attached. A complete inventory with serial numbers that are available will be posted when it is completed. Please call my office at 740-773-1185 and ask for Deputy Hamman if you think you recognize any of the property pictured.
As always the community is my greatest resource for information, as these arrests would not have been possible without the information received.