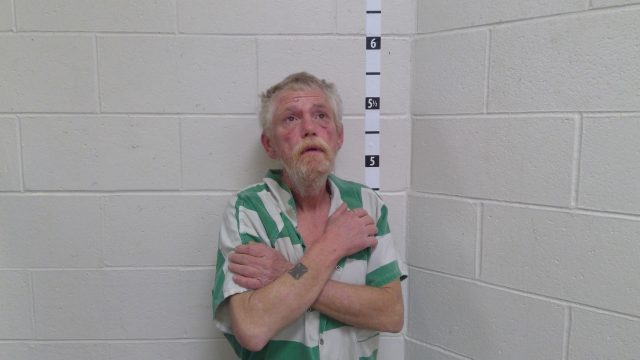 CHILLICOTHE – A man with two-bladed weapons had to be physically wrestled to the ground and arrested after not complying with orders on Friday.
According to the Chillicothe Police department, they were called to Floyds Semantal Clinic on a report of a man who had been trespassed from the property before and was on the property and refused to leave. The caller reported that the man was on the patio area and had pulled a knife.
When police arrived they found William Woods, 47 on the back patio area of the residence refusing to leave. Woods immediately became combative upon initial contact with police at the back patio of the residence and was contained in the back patio until additional Officers arrived on the scene.
"Woods displayed a clenched left fist, refused to remove his right hand from his coat pocket, and was yelling at the two officers stating that he was going to fight. Another male subject was in the back patio with Woods and remained seated with his hands up while Ofc. Simmons and myself ordered Woods to display his hands and to lay on the ground. Woods refused to follow verbal commands and maintained his combative posture. Woods eventually moved to the opposite corner of the patio, allowing an opportunity for the other male subject in the back patio to quickly exit."
When additional officers arrived they made an entrance into the patio.
"Upon entering the back patio of the residence, Woods was again ordered to get on the ground, in which he refused. Ofc. Simmons grabbed Woods by his coat, in which Woods responded by grabbing and pushing against Ofc. Simmons. I grabbed Woods by his arms, and pulled them away from Ofc. Simmons. Woods was then escorted to the ground, and detained. While being detained, Woods continued to push and pull against Officers on scene, and ignored verbal commands to stop resisting."
After officers detained Woods he was searched and police found a screwdriver in the man's left front pocket of his jacket. Also on the ground behind the chair he was sitting in before being taken to the ground was an open knife.
Woods was arrested for Criminal Trespass, Resiting Arrest, and Obstructing Official Business. Woods will remain in the Ross County Jail pending his mandatory appearance in the Chillicothe Municipal Court on 1/31/2022