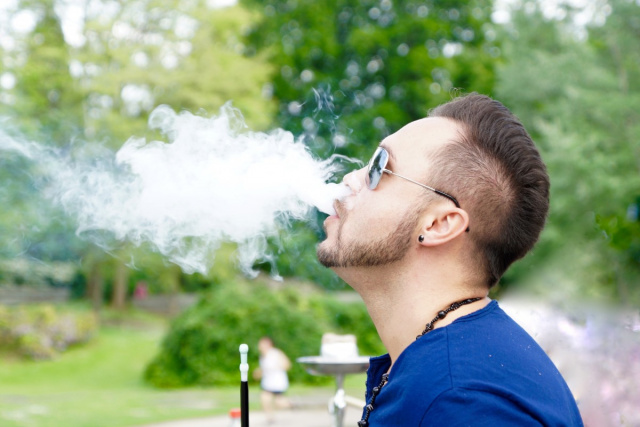 Chillicothe, OH – According to the Center for Disease Control and Prevention (CDC) Tobacco use is the leading cause of preventable disease, disability, and death in the United States. About 4.7 million middle and high school students use one or more tobacco products, like e-cigarettes.[1] In an effort to encourage people to quit smoking, the American Cancer Society began the Great American Smokeout – a day for individuals to start their journey to a smoke- free life.
In honor of this day, RCHD will be hosting the Great American Smokeout scavenger hunt Thursday, November 18, 2021. Students representing Huntington High School, Zane Trace High School, and Pickaway Ross Career and Technology Center will be participating in this event. They will be on foot throughout downtown Chillicothe answering trivia questions about tobacco and vaping to promote cessation and prevention among Ross County youth. The winning team will receive gift cards to Paper City Coffee and runner ups will receive gift cards to Grandpa Joes Candy Shop.
Since 1976, the American Cancer Society has hosted the Great American Smokeout, a public awareness event to encourage people to quit smoking. It is held on the third Thursday of November. The campaign reminds people they don't have to stop smoking in one day, but to start with day one. The Ross County Health District invites those ready to quit to make today, Day One, by calling 1-800-QUIT-NOW to be linked to free resources to help you on your journey to a smoke-free life.
For kids under 18 who struggle with nicotine addiction, FREE text help is here! My Life, My Quit™ is for teens, 13 – 17, who want to quit vaping, smoking or chewing tobacco. Each teen gets quit help via TEXT, phone or online with trained staff. It's easy!
Adults that want to quit tobacco can contact the Ohio Quitline: 1-800-QUIT-NOW (1-800-784-8669). The Ohio Tobacco Quit Line is available FREE of charge to ALL Ohioans of age 18 or older regardless of insurance status or income. There is also a special program for pregnant women. Nicotine patches, gum, or lozenges are provided for up to eight weeks at no charge to eligible participants.
My Life, My Quit™ uses proven methods for quitting. With evidence linking youth tobacco/vape use to addictive behaviors later in life, it is vital to get teens the support that works. My Life, My Quit's™ compassionate coaching offers smart, simple, and effective help.
How can you reach My Life, My Quit™? Text 36072 for real-time coaching. Visit MyLifeMyQuit.com to learn more about the program and to enroll using our streamlined registration process.