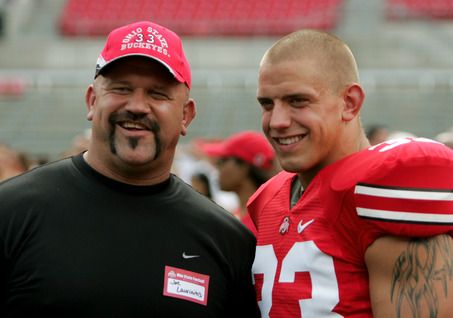 OHIO – The Other half of the Road Warriors is missing today after father of OSU football legend James Laurinatitis dies.



Joseph Laurinatitis has his own story to tell that is just as great as his sons. Joseph was known through his career as Animal in the duo WWF threat "The Road Warriors."



This morning via twitter the family acknowledged the death of the superstar at 60.
At this time, we would like to confirm the passing of Joseph Laurinaitis aka Road Warrior Animal at the age of 60. The family is planning to release a statement later today. At this time we ask for you to keep everyone in your thoughts and prayers. #OhWhatARush

— RoadWarriorAnimal (@RWAnimal) September 23, 2020
The post to his Twitter account said the family is planning on releasing a statement later Wednesday.
Animal was one-half of the iconic Road Warriors, also known as the Legion of Doom, during his wrestling career. His teammate, Michael Hegstrand, known as Road Warrior Hawk, died at the age of 46 in 2003. The Road Warriors were known for their physical in-ring style, face-paint and spiked shoulder pads, and were one of the most popular tag-teams in the world.
The Road Warriors were so great at promos – such intensity#RIPAnimal

Via @JustRasslin

— On This Day in WWE (@WWEotd) September 23, 2020