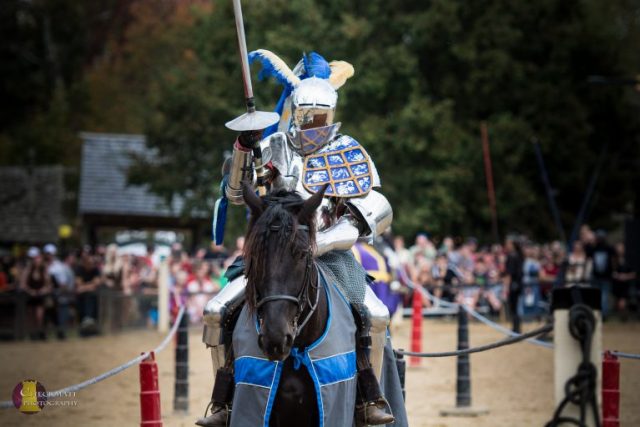 HARVEYSBURG, Ohio (August 15, 2019). . .Each year thousands journey to Harveysburg in Warren County to experience the old, new, and unique that bring the Ohio Renaissance Festival to life. This year marks the 32nd anniversary and festival organizers are excited to celebrate with hundreds of thousands during the season.
The Ohio Renaissance Festival has had two owners in its 32-year history. Peter Carroll, an Indian Hill resident, owned and operated the event for 25 years. In 2015 three investors came together to purchase the festival with a vision to continue the growth of the event for many years to come. As festival owner Chuck Biehn stated, "When Peter Carroll started our festival 30 years ago, we're certain he couldn't have envisioned what it would be today. We took the foundation he created and built on it, again with our patron experience in mind. We are committed to offering the best entertainment experience we can."
And, that's just what these three have done. . .
The festival has seen many improvements since 2015. Most who visit after a long time away say they don't recognize the festival grounds. Large gardens and landscaping projects, new structures such as the 1572 Roadhouse Bar-B-Q and seating arbors, flushing toilets (That may not sound like a big deal, but trust us, to an outdoor festival site, it is!) and the list goes on and on. The addition of events to utilize the property for a longer timeframe each year – Celtic Fest Ohio in June, the 1572 Roadhouse Bar-B-Q, Bellwether Music Festival and Brimstone Haunt – continue to grow the property.
In 2020 the festival was canceled but they have made improvements for the 2021 season. Three extra stage areas, Free Lancers that will have full contact ground combat, a Wheel of death act, and Barbarians. More can be found by visiting the website here: https://www.renfestival.com/new-for-the-2021-season/
The festival features a handful of new entertainment spanning death-defying feats to 'rockin' Irish music'.
⦁ The Free Lancers bring hard hits and thrilling action to the Guinness Arena of Champions three times each day.
⦁ Death-defying, daring, dangerous and dynamic. Ichabod Wainwright will amaze and amuse you with his Wheel of Death.
⦁ Join equestrian acrobat, The Daring Horseman, as he combines grace and beauty with daring and dangerous.
⦁ Judas & Magnolia: Daring Escapes are a husband-and-wife team of escape artists and circus performers. Watch in amazement as they perform impressive escape stunts.
⦁ Cincinnati Barbarian is an armored combat group featuring fights with real armor, real weapons and real combat!
⦁ Weaving comic wit and impressive feats of escapism, fire artistry, and the supernatural, Johnny Phoenix is the Danger Comedian.
⦁ Valkyrik is a high-energy, fantasy music act built on themes of war and battle from the Norse/Viking.
⦁ Robert the Barrrd performs solo songs Olde and New and is a portrayer of villains most dastardly, and heroes most cunning.
⦁ Don't miss the "rockin' Irish music" of Celtic Mayhem.
The 32nd annual Ohio Renaissance Festival runs Saturdays, Sundays, and Labor Day Monday for nine weekends, SEPTEMBER 4 – OCTOBER 31, 2021 | 10:30 AM — 7:00 PM Weekends and Labor day. Located on State Route 73 in Warren County, just 2 miles west of I-71 or 15 miles east of I-75, the festival is within an hour's drive from Cincinnati, Dayton, and Columbus.
Located at 10542 E SR 73 Waynesville, OH. This 35-acre permanent village has been authentically and historically re-created in the flavor of 16th Century England and opens this year with some new events and talents.  If you've never been to the Ohio Fest this is a time capsule back in time to the time of swords and medieval characters.  A festival with lots of plays, live action swordplay, and jousting.  Regular fairgoers dress up as their favorate medievil character and join in the fun.  The Renaissance Festival is claiming 9 weeks of fun this year.  
Adults $19; Children $7.50 (ages 5-12); Children under 5 FREE. This is a reduced cost from the 2019 season.