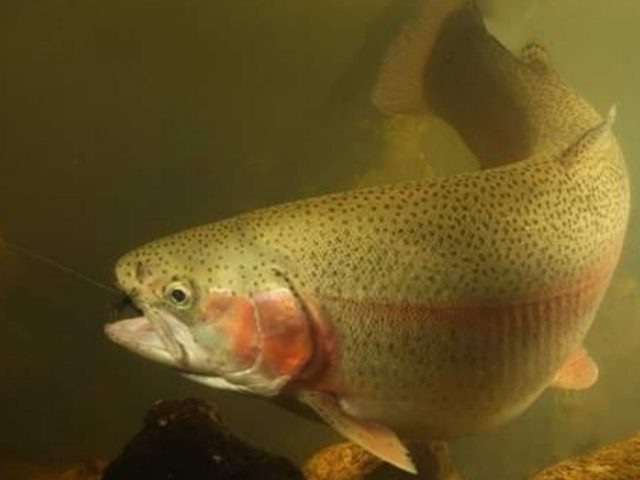 OHIO – Rainbow trout will be released throughout the spring and early summer in Southern Ohio areas including Fayette, Hocking, Pike, Highland, and Ross counties. Just over 80,000 rainbow trout are released every spring in many Ohio public lakes and ponds. 
Rainbow trout releases will take place across Ohio during March through May in 2021, as long as areas are ice-free and accessible to anglers. Stocking of these public lakes and ponds are excellent opportunities for families to fish together. Fishing for catchable-sized trout is also a great way to introduce young people to the outdoors. Rainbow trout are raised at state fish hatcheries and measure 10-13 inches before they are released by the ODNR Division of Wildlife. The daily harvest limit for inland lakes is five trout per angler. Scroll down for directions to stocked lakes.
** Indicates a special angler event is planned for the trout release.
Call 1-800-WILDLIFE (800) 945-3543This link will open in a new window for specific information.
| | | |
| --- | --- | --- |
| Location Name | County | District | Release Date |
| ADAMS LAKE | Adams | District 5 | week of Mar 12 |
| FORKED RUN LAKE | Meigs | District 4 | week of Mar 19 |
| RUSH RUN LAKE | Preble | District 5 | week of Mar 19 |
| CALDWELL LAKE | Ross | District 4 | week of Mar 26 |
| LAKE ALMA | Vinton | District 4 | week of Mar 26 |
| QUARRY PARK | Marion | District 1 | week of Mar 26 |
| TIMBRE RIDGE LAKE | Lawrence | District 4 | week of Mar 26 |
| ANTRIM LAKE | Franklin | District 1 | week of Apr 2 |
| BARNESVILLE RESERVOIR #3 | Belmont | District 4 | week of Apr 2 |
| BELMONT LAKE | Belmont | District 4 | week of Apr 2 |
| BLUE LIMESTONE PARK | Delaware | District 1 | week of Apr 2 |
| BLUE ROCK LAKE | Muskingum | District 4 | week of Apr 2 |
| CENCI PARK LAKE | Fairfield | District 1 | week of Apr 2 |
| CLARK LAKE | Clark | District 5 | week of Apr 2 |
| DOW LAKE | Athens | District 4 | week of Apr 2 |
| FOUNDATION PARK | Knox | District 1 | week of Apr 2 |
| HERITAGE PARK | Franklin | District 1 | week of Apr 2 |
| MONROE LAKE | Monroe | District 4 | week of Apr 2 |
| MT. GILEAD LAKE | Morrow | District 1 | week of Apr 2 |
| NEW LEXINGTON RESERVOIR 1A | Perry | District 4 | week of Apr 2 |
| ROCKY FORK- SOUTH BEACH POND | Highland | District 5 | week of Apr 2 |
| SHADOW LAKE | Cuyahoga | District 3 | week of Apr 2 |
| STONELICK LAKE | Clermont | District 5 | week of Apr 2 |
| WHITE STAR QUARRY | Sandusky | District 2 | week of Apr 2 |
| WOLF RUN LAKE | Noble | District 4 | week of Apr 2 |
| ROSE LAKE | Hocking | District 4 | 4/2/2021** |
| DAVIS LAKE | Auglaize | District 5 | week of Apr 9 |
| DELTA RESERVOIR #2 | Fulton | District 2 | week of Apr 9 |
| LAMBERJACK LAKE | Seneca | District 2 | week of Apr 9 |
| MALABAR FARM POND | Ashland | District 2 | week of Apr 9 |
| MCKARNS LAKE | Williams | District 2 | week of Apr 9 |
| NORWALK RESERVOIR #1 | Huron | District 2 | week of Apr 9 |
| PEARSON METROPARK PONDS | Lucas | District 2 | week of Apr 9 |
| PUNDERSON LAKE | Geauga | District 3 | week of Apr 9 |
| ROWLAND NATURE PRESERVE LAKE | Lorain | District 3 | week of Apr 9 |
| SHELBY RESERVOIR #3 | Richland | District 2 | week of Apr 9 |
| SILVER CREEK LAKE | Summit | District 3 | week of Apr 9 |
SWANTON WATERWORKS RESERVOIR
Lucas | District 2
week of Apr 9
VESUVIUS LAKE
Lawrence | District 4
week of Apr 9
WALKER ROAD POND
Lorain | District 3
week of Apr 9
YOCTANGEE PARK LAKE
Ross | District 4
4/10/2021**
PIKE LAKE
Pike | District 4
4/12/2021**
EAST HARBOR STATE PARK POND
Ottawa | District 2
week of Apr 16
HINCKLEY LAKE
Medina | District 3
week of Apr 16
JEFFERSON LAKE
Jefferson | District 3
week of Apr 16
LIMA LAKE
Allen | District 2
week of Apr 16
LITTLE TURTLE POND
Summit | District 3
week of Apr 16
MILL CREEK PARK: GLACIER LAKE
Mahoning | District 3
week of Apr 16
OHIO / ERIE CANAL
Cuyahoga | District 3
week of Apr 16
OLANDER LAKE
Lucas | District 2
week of Apr 16
PAINESVILLE REC PARK POND
Lake | District 3
week of Apr 16
SYCAMORE STATE PARK POND
Montgomery | District 5
week of Apr 16
VAN WERT RESERVOIR #1
Van Wert | District 2
week of Apr 16
VETERANS PARK POND
Lake | District 3
week of Apr 16
JACKSON CITY RESERVOIR
Jackson | District 4
4/17/2021**
PETROS LAKE
Stark | District 3
week of Apr 23
ROOSEVELT LAKE
Scioto | District 4
week of Apr 23
TURKEY CREEK LAKE
Scioto | District 4
week of Apr 23
ASHLEY UPGROUND
Delaware | District 1
week of Apr 30
EYMAN PARK
Fayette | District 1
week of Apr 30
SUNBURY UPGROUND #1
Delaware | District 1
week of Apr 30
TAWAWA LAKE
Shelby | District 5
week of Apr 30
GIERTZ LAKE
Hancock | District 2
5/1/2021**
CROSS ROADS INDUSTRIAL PONDS
Crawford | District 2
early May**
JESSE OWENS ST PK:
Hook Lake Lower Pond
Morgan | District 4
early May**
JESSE OWENS ST PK:
Hook Lake Upper Pond
Morgan | District 4
early May**