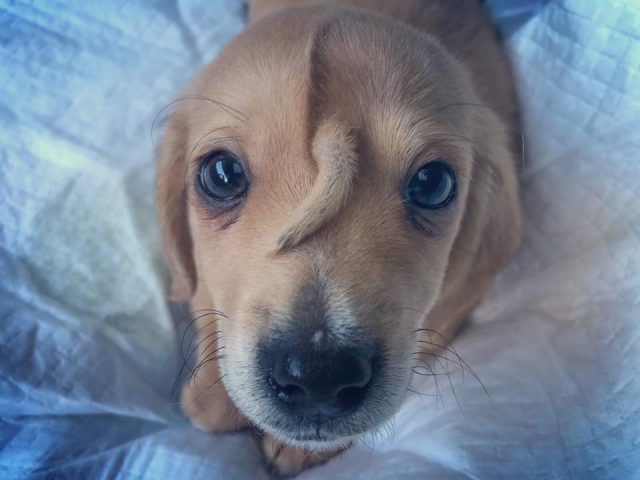 MISSOURI – A non-profit animal rescue in Cape Girardeau, Missouri rescues all kinds of animals, most have issues of abuse or neglect, and this special case is no different.

On November 8, 2019 a puppy was found with another older dog on the side of the road in the freezing cold and were brought in by the rescue. The puppy had a foot injury and something else very special. It had a tail growing out of its forehead.
The puppy became a instant favorite and was named, "Narwhal the Little Magical Furry Unicorn." and no they have not seen the tail wag

Becoming a instant sensation on the internet thousands of questions poured in on how and if the puppy is ok. Yesterday November 12th the puppy was taken to the vet for X-rays to discover the source of this genetic phenomenon.
According to the doctor the tail is, "extra parts," and not connected to anything.
"It appears they assembled the puppy wrong. Always follow the directions people!" This is a true experience of having "extra parts" during assembly. Dr. Heuring said there is no real reason at this time for the unicorn tail to be removed (and we all wish it wagged)!!

As of now the puppy is going viral and Mac's Mission is collecting to save more dogs.  The foundation "specializes in special", our focus is on the homeless "janky" dogs who would die without us. The injured, abused, and birth defects, that is our mission. Shelters and rescues do not have the time or resources that we do so most of these special dogs get sadly euthanized. Our hope is to give them the chance they need to thrive and heal in an environment full of love and caring.
For more in the shelter click here: https://www.iampitbullstrong.com/sponsors