PICKAWAY – According to Sheriff Robert B. Radcliff, on August 26, 2020 the Pickaway County Sheriff's Office had multiple Deputies working High Visibility Enforcement Overtime (HVEO). HVEO is a grant provided by the state of Ohio to work traffic at specific times and in specific high traffic areas.
The first major traffic stop of the evening was conducted by Corporal Stephen Harger at 6:53 P.M. Corporal Harger stopped a vehicle for a speed violation on US Rte 22 just west of US Rte 23.
Corporal Harger made contact with the male driver, identified later as Brian K. Woodruff, of Waverly, Ohio. Corporal Harger asked Mr. Woodruff for consent to search the vehicle, which Mr. Woodruff consented to. Mr. Woodruff exited the vehicle and 2 large bags of suspected methamphetamine fell out of Mr. Woodruff's pants on to the ground. Corporal Harger secured Mr. Woddruff in handcuffs and placed him in the back of his cruiser. Detective John Strawser, Deputy Ryan Howard and Sgt. Kyle Eveland arrived to assist Corporal Harger.



Corporal Harger deployed his K9 partner Joris for a free air sniff around the vehicle, where Joris alerted and indicated to the odor of narcotic's coming from the vehicle. Upon search of the vehicle, Corporal Harger, located drug paraphernalia. The suspected methamphetamine located on the ground was over 2 ounces.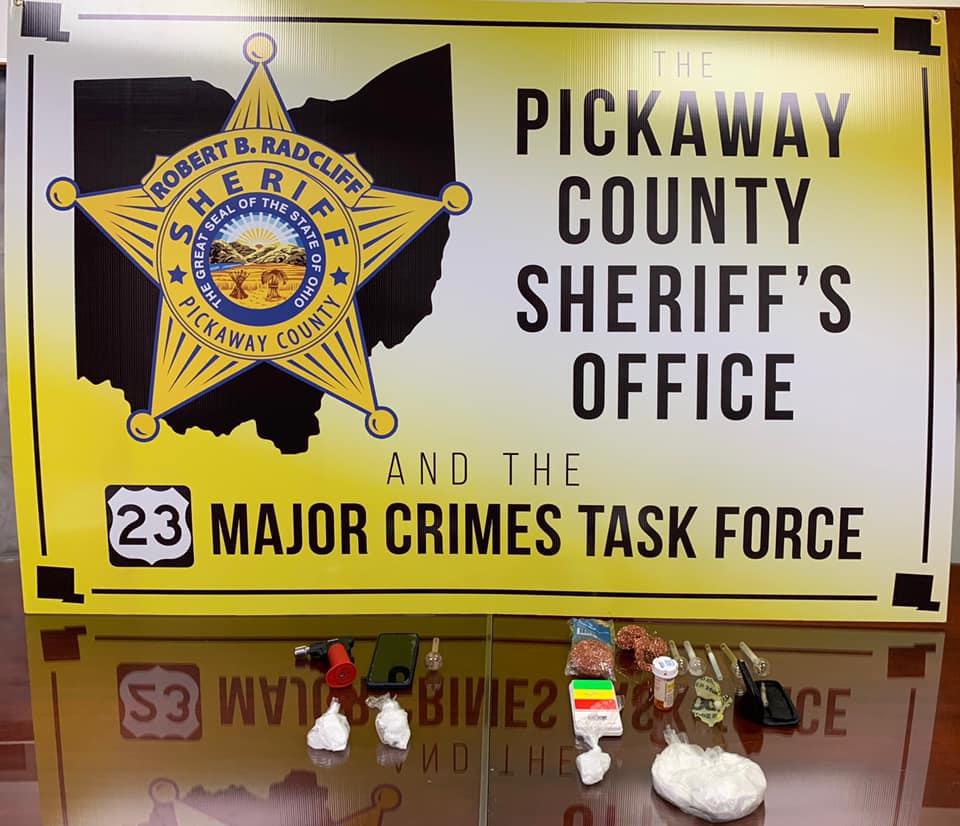 Mr. Woodruff was transported to the Pickaway County Jail and was charged with, Aggravated Trafficking of Schedule I Drugs (F-1), and Possession of Schedule I Drugs (F-1).
The second major traffic stop was conducted by Sergeant Kyle Eveland at 9:04 P.M. Sergeant Eveland stopped a vehicle for a equipment violation on US Rte 23 in the are of Mile Post 9 (just north of the 22/56 exit).
Sergeant Eveland made contact with the driver Jayson A. Meenach of Wheelersburg, Ohio. Sergeant Eveland observed criminal indicators by Jayson Meenach and his passengers Jeffrey R. Apel of Wheelersburg, Ohio and Daniell D. Bentley of Portsmouth, Ohio.
Sergeant Eveland deployed his K9 Partner Edguy for a free air narcotic search. K9 Edguy alerted to the odor of narcotics coming from within the vehicle.
Deputies Robert Morningstar and Ryan Howard assisted Sergeant Eveland with a probable cause search of the vehicle. Where they located over 7 ounces of suspected methamphetamine, multiple smoking pipes and a set of scales.
Jayson Meenach, Jeffrey Apel and Daniell Bentley were transported to the Pickaway County Jail and all charged with Aggravated Trafficking Schedule I Drugs (F-1), and Possession of Schedule I Drugs (F-1). Jeffrey Apel also had an outstanding warrant out of Scioto County for Domestic Violence.
All four suspects that were apprehended will be arraigned in the Circleville Municipal Court on August 27, 2020.
Deputies were assisted at both scenes by the US 23 Major Crimes Task Force, who will also conduct the follow up and continue the investigation.



The Pickaway County Sheriff's Office encourages anyone with drug tips, to please contact the Sheriff's Office at their anonymous tips line at [email protected] Without the help of the communities' tips we would not be successful in our efforts of keeping the community safe and fighting drug abuse.