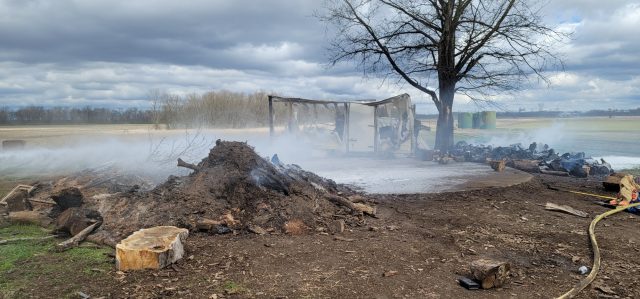 PICKAWAY – Pickaway Township fire was called to a shed fire over the weekend, when they arrived the shed was fully engulfed and resulted in full loss of the shed and a wood pile.
According to the department this was caused by a pile of brush that was open burning for around three days that had smoldered and when wind caught the embers in this dry condition spread them to the adjacent building that caused it to catch fire.
According to national weather seasonably warm temperatures expected on Tuesday with dry and breezy conditions. RH values are expected to bottom out in the 25-35% range with wind gusts up to 25-35 mph.
Ohio DNR Forestry prohibits outdoor open burning and prescribed fires in the months of March, April, May, October, and November between 6am and 6pm. This ban includes burning of yard waste, trash, and debris, even in a proper burn barrel.
Today the region seeing the driest air is southeast of the I-71 corridor, covering the Hocking Hills, Scioto Valley, and portions of southwest Ohio, east of Metro Cincinnati.
Open burning of any type is considered extremely dangerous at this time. Be very careful of heat and sparks while operating machinery.
Even outside the time and date restrictions, any person conducting a burn must obtain landowner permission, remain with the fire while it is burning, and take all reasonable precautions to prevent the fire from escaping.
Ohio state law prohibits burning in the spring from 6am to 6pm
Contact Ohio Division of Forestry 1-877-247-8733