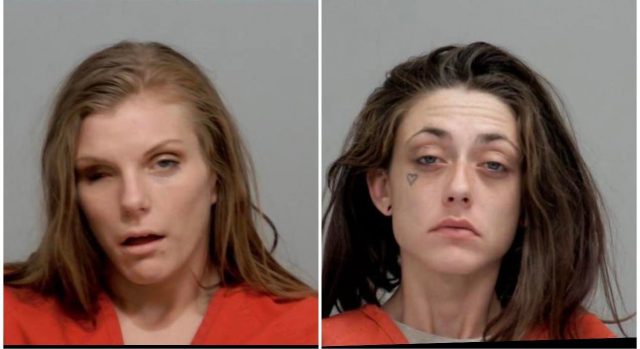 PICKAWAY – Two women were arrested in Pickaway County on 10/17/22 after one person complained that one was nude and running around.
On 10-17-2022 at 0902 hours, Pickaway Deputies were dispatched to the area of Bulen-Pierce Road just north of Old Duvall Court West, Lockbourne, Pickaway County, Ohio, for a complaint on a vehicle. The caller advised there was 2 females inside and they seemed to be under the influence, one of which was possibly running around naked.
Upon arrival, the Sgt. witnessed the vehicle in question sitting on the side of the road. The vehicle displayed Ohio registration, JHF 7777, a black Ford
Fiesta. The Sgt made contact with the female driver and passenger, and advised them of the complaint. They were later identified as, Megan Macioci and Haley Jenkins. During the course of speaking with them, I detected a strong odor of raw marijuana coming from inside the vehicle. The officer advised them, which they stated, "we just smoked a blunt." I had the driver, Megan, step out of the vehicle and secured her in the back of the cruiser. As Megan opened the door, the Sgt. witnessed several hypodermic syringes in plain view with a white residue inside. He then had Haley exit the vehicle as well, shortly after.
In the Report the Sgt. asked Megan if there was anything inside the vehicle other than marijuana. Megan stated, "there is some crack inside, maybe under the seat." A probable cause search of the vehicle was later conducted.
The Sgt. located a silver container with a white rock inside. Inside Megan's purse, were found 2 glass crack pipes, and a bong with crack residue as well. a hypodermic syringe, under the passenger seat, where Haley was sitting.
Both were placed in handcuffs and later transported to the Pickaway County Jail. Once arrived at the jail, Haley advised the Deputy that she had some narcotics on her person. She identified the narcotics as crack and fentanyl.
Both Megan and Haley are charged with Possession of Drugs and Drug Abuse Instruments.