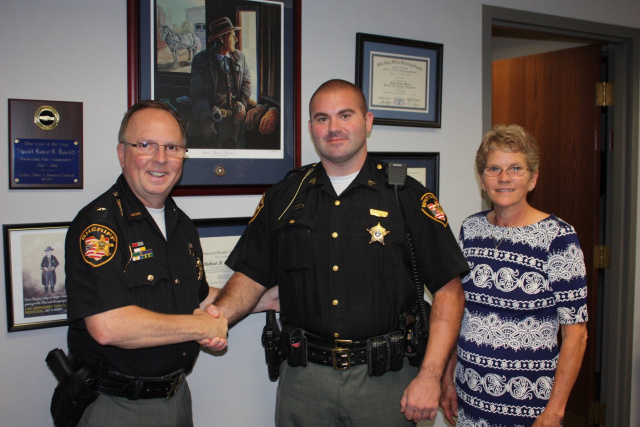 PICKAWAY – Sergeant Eveland said that he has always wanted to be in law enforcement, and he's had several promotions since being involved with Pickaway County Sheriff's department.
Sgt. Eveland great up in the Hocking County, Larelville area and is a graduate of Logan Elm Schools, he entered into law enforcement with Pickaway County as a jail officer Deputy in June of 2015, six months later he was promoted to the road patrol. In the summer of 2017 Eveland received the opportunity to take on the responsibility of being a K9 handler, and a year later promoted to Corporal. Eveland said that when the Sergeant position came available he applied for it went through the interview process and was shocked when the position was offered to him.
"The job is ever-changing you never know what the shift will bring you. It could be one of the slowest nights ever and then you get that one phone call to change your entire night. You can go from zero to one-hundred in one phone call. K9 handler is one of my favorite aspects of the job, its demanding because the K9 officer is used a lot in the different villages around Pickaway County and even sometimes in Circleville, so that keeps me busy when on patrol."
Eveland said that South Bloomfield and Circleville are the only locations where they have K9 units, so the Sheriff K9 responds to areas that need it.
The sergeant said he's 27 years old with a girlfriend and no kids, he likes hunting and fishing other hobbies include working out. He says the area is a pretty good area to work, and he enjoys working with the citizens of Pickaway County.