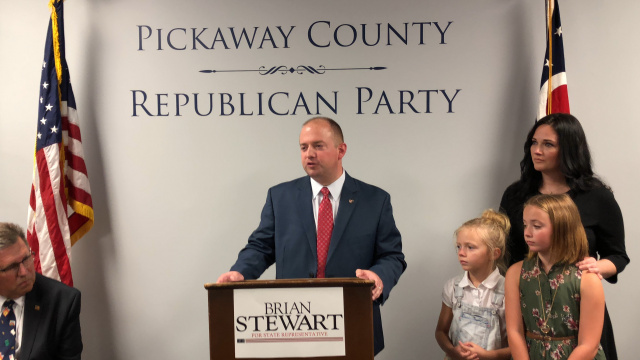 ASHVILLE OHIO –
At a gathering at the Republican Headquarters, Pickaway County Commissioner Brian Stewart announced on Wednesday, August 14th 2019 that he is running for a seat in the Ohio House of Representatives. As per the announcement, he will be running for the 78th district, which is currently being held by Ron Hood of Ashville, who has held the seat since 2013.

Brian S. Stewart began his first term as Pickaway County Commissioner in January 2013. He is a lifelong resident of southern Ohio, a local attorney, and a combat veteran of the Iraq War.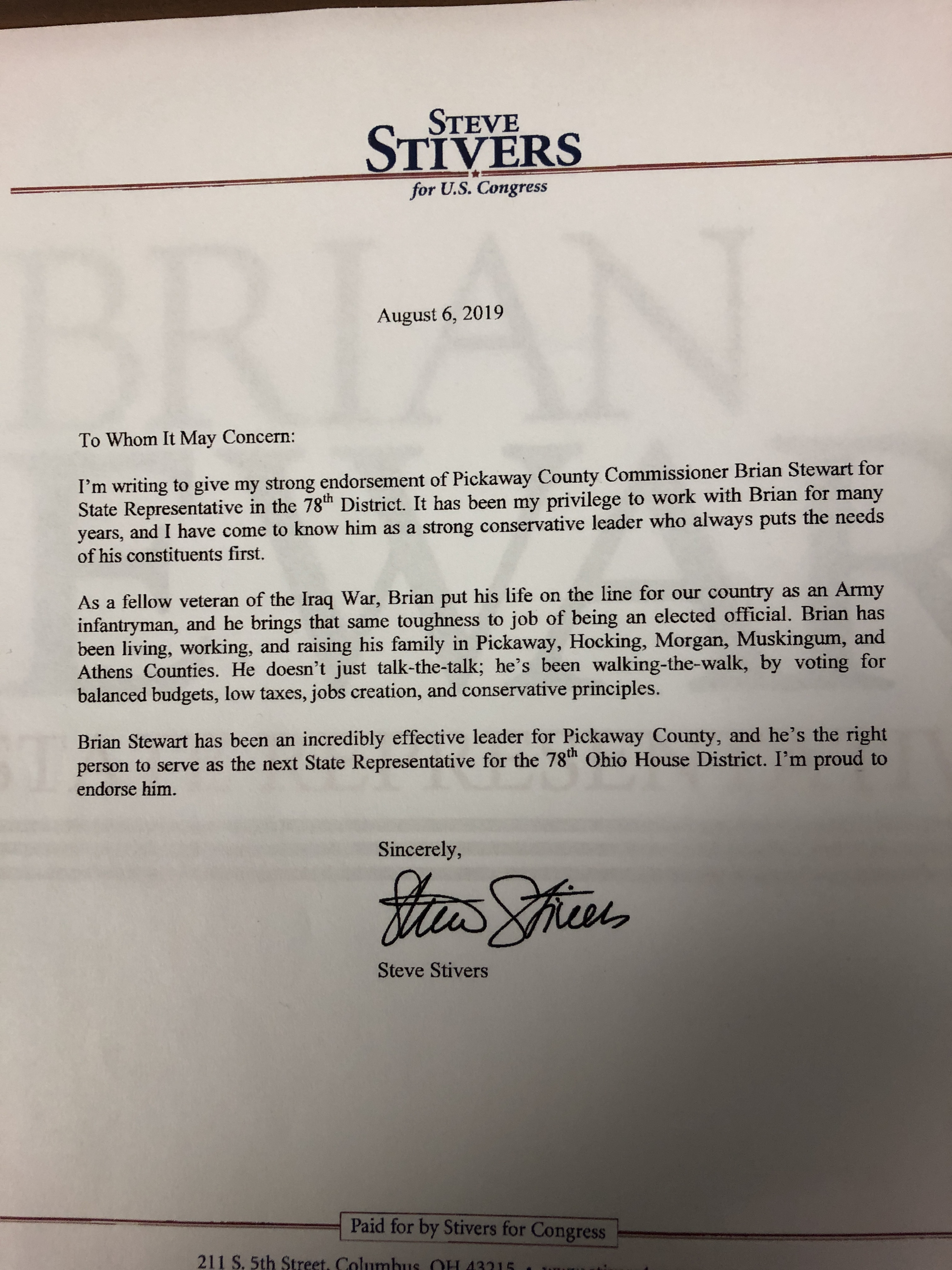 Commissioner Stewart enlisted for active duty in the Army in 2003, and volunteered to serve in the infantry. After graduating from Basic Training and Airborne School, he was assigned to the 3rd Infantry Division, was soon deployed to the Sadr City area of Baghdad in Iraq. During a year long deployment in 2005, he conducted over 150 combat patrols in the city. For his actions, Commissioner Stewart earned the Combat Infantryman's Badge (CIB), and was twice awarded the Army Commendation Medal before he was honorably discharged in 2006.
Commissioner Stewart then earned his bachelor's degree and law degree, both from the Ohio State University. He is a partner at Farthing & Stewart LLP, a local law practice in Circleville. In 2009, he successfully ran for a seat on Ashville Council, where he served three years on the Finance and Public Safety Committees and as President Pro Tempore of Council in 2012.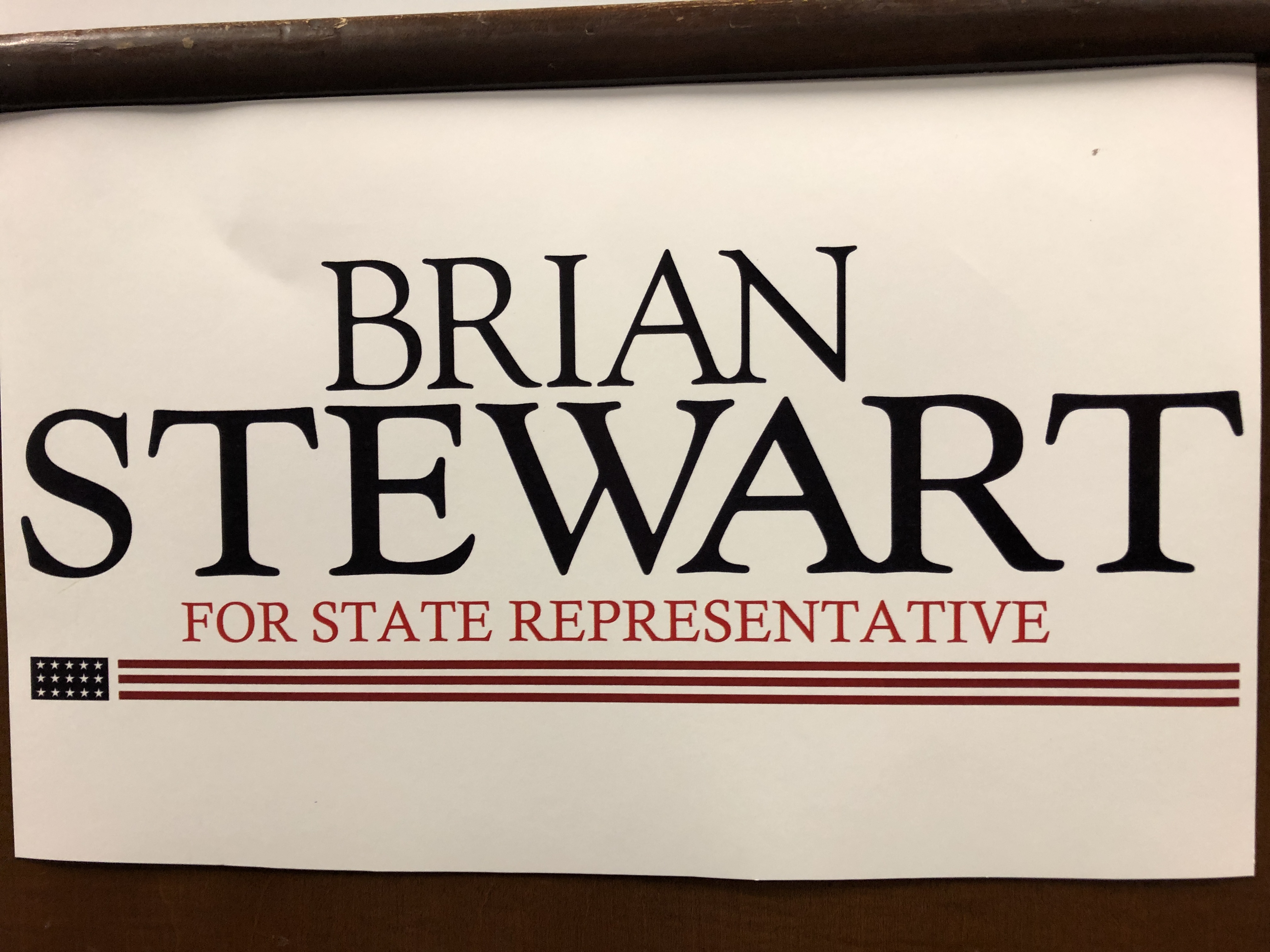 Commissioner Stewart is an active member of his community. He is the immediate past Vice President and Spokesman for the Ohio Fallen Heroes Memorial, and is a member of the Pickaway County Farm Bureau, the Association of Ohio Commodores, the Veterans of Foreign Wars (VFW), and the Camp Charlotte Chapter of the Sons of the American Revolution (SAR). Commissioner Stewart lives in Ashville and attends Ashville Village Chapel with his wife, Letanya, and their two daughters, Salem and Sidney.