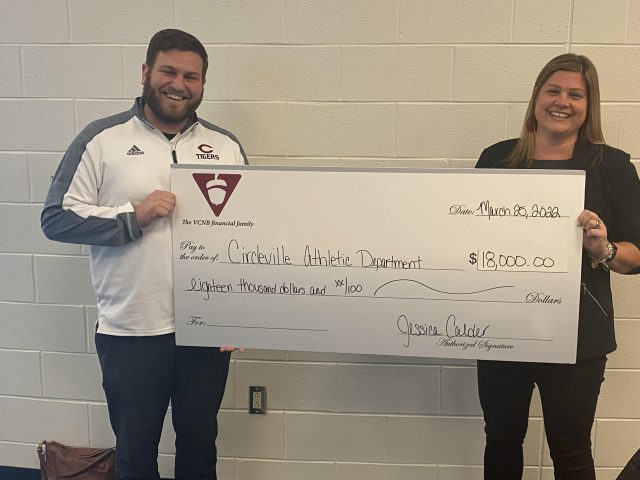 Circleville City Schools – The Circleville Athletic Department is excited to announce it has entered into a three year athletics partnership with southern Ohio banking staple, Pickaway County Banking Center (PCBC) – a member of the Vinton County National Bank Financial Family. As a part of this partnership, any Grade 6-12 student at Circleville Middle School and Circleville High School will be able to attend all regular season home games for free upon presentation of their Student ID card.
Dating back to the company's founding in 1867 in McArthur, the Vinton County National Bank Financial Family has worked to establish and maintain community roots benefiting the very people and families it serves. Since that time, it has grown to encompass 16 branches spanning eight Ohio counties in the process.
"At the intersection of school spirit and athletics competition lies partnerships vested in their community," said Circleville High School Athletic Director Brandon Wright. "We are incredibly grateful for the Pickaway County Banking Center's significant investment in our students and their experiences supporting classmates and friends as a result of this new students section partnership."
In hosting athletic events at Circleville High School, we are incredibly thankful for the leadership of prominent partners such as Pickaway County Banking Center going above and beyond for their community. Looking ahead to the future, this partnership with Pickaway County Banking Center marks the beginning of substantial growth in our ability to further enhance these experiences of our students, athletes, and community outreach here in Circleville.
"Pickaway County Banking Center prides itself in being a community-centered organization and we are proud to support the Circleville City School District and its student," said Jessica Calder, PCBC Branch Manager, "We are excited to be able to provide all students in grades 6-12 the opportunity to support their friends, school and community without regard to cost. As a Circleville High School graduate this is especially close to my heart. To work in this community and be able to support the place that helped shape my youth means the world to me."
Circleville Middle School and Circleville High School students can begin attending home games cost-free starting in the Fall of 2022. For upcoming game schedules and more information visit CirclevilleAthletics.com.
——–
Circleville City School District (CCSD) is a public education institution serving the City of Circleville in the county seat of Pickaway County in south-central Ohio. The district proudly serves approximately 2,200 students annually in a PK-12 setting at Circleville Elementary, Circleville Middle, Circleville High School, and through the Circleville Digital Academy. To view the CCSD Quality Profile, please follow through to the link provided (here).
—
Vinton County National Bank, founded in 1867, operates 16 Banking offices under the names Canal Banking Center, Franklin County Banking Center, Friendly Bremen Banking Center, Hocking Hills Banking Center, Jackson County Banking Center, Pickaway County Banking Center, Ross County Banking Center, Salt Creek Banking Center and Vinton County National Bank. Vinton County National Bank is committed to providing excellence in banking with local service to its customers and the communities in which they live. Find out more about Vinton County National Bank at www.VCNBfamily.com.