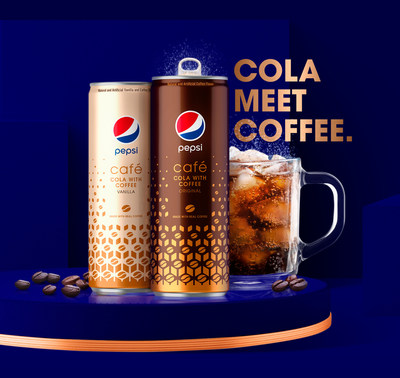 USA – Pepsi is brewing up a new flavor and it involves coffee beans. Yesterday Pepsi announced a new beverage debuting in the US in April of 2020, that blends deep flavor of coffee with pepsi with two diffrent flavors both original and vanilla.
Names Pepsi Cafe the drinks counter part is made from arabica coffee and boasts double the caffeine of regular pepsi. The beverage is available in a 12 Oz can.
"We know that the consumers today are looking for products that meet the needs of energy, indulgence, and refreshment during that afternoon pick-me-up occasion. At Pepsi, we've known the potential of blending cola and coffee for years and after striking the perfect balance, we cannot wait to introduce Pepsi Café to the US next year," said Todd Kaplan, VP of Marketing, Pepsi in a press release "We are confident that cola fans, iced coffee drinkers and anyone in need of an extra caffeine boost will love the unexpected flavor medley of roasted coffee infused into the refreshing, crisp flavor of Pepsi."
Pepsi said this is not the first time they have tried the combo but feels america was not ready for the beverage then and the drink may have been ahead of its time. Pepsi tried a combo in 1996 called Pepsi Kona that was unsuccessful.
Will you try it?