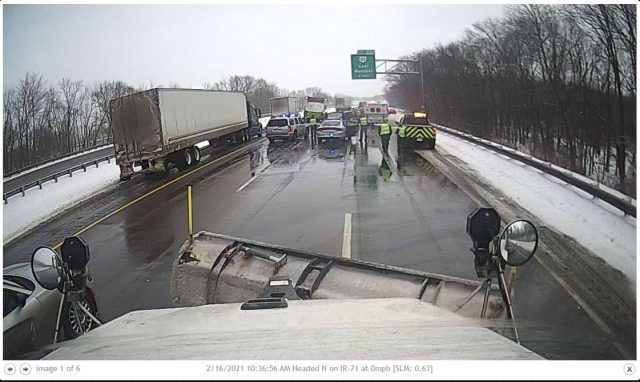 MEDINA – The Medina Post of the Ohio State Highway Patrol is investigating a two-vehicle crash involving an Ohio Department of Transportation (ODOT) plow truck on Interstate 71 near state Route 83 in Harrisville Township, Medina County.
On February 16th, at 10:15 a.m., the Patrol's Medina Dispatch Center received a call about a two-vehicle injury crash in the northbound lanes of I-71. Troopers arrived on the scene and located a 2019 Toyota Tacoma and an ODOT plow truck in the left lane of the roadway.
The ODOT plow truck was performing winter roadway maintenance in the left lane when it was struck from behind by the Tacoma.
This is the 11th crash involving a plow truck this year, all were at motorist fault.
The driver of the Tacoma was identified as Joseph W. Wheeler, 71, Cleveland. Wheeler was pronounced dead at the scene. The driver of the ODOT plow truck was not injured.
The crash remains under investigation. Motorists are reminded to be extra cautious when driving on snow and ice-covered roadways. They should allow extra time to get to their destination and maintain a safe distance between their vehicle and the traffic ahead. This is especially important as our traffic safety partners and their crews are clearing our roadways.