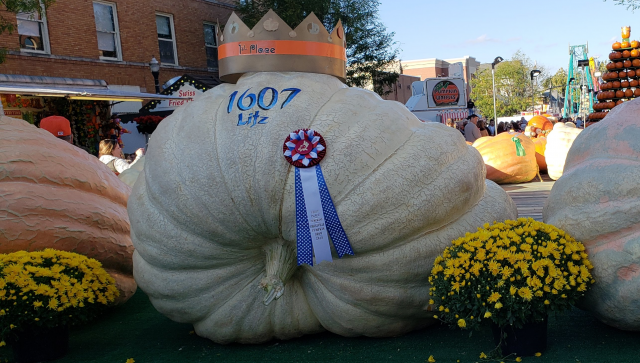 OHIO – The COVID-19 Pandemic has taken a toll on community festivals this spring and summer season, now its pushing into December, now we wait for a very important local Pumpkin show vote that will happen tonight Wednesday July 15th.



According Ohio Festival and Events Association says that Ohio Business Closures still includes "Parades, fairs, festivals, and carnivals. (County fairs are permitted)" This mandate has made for very uncertain times for on how and when events will be permitted to happen and makes for planning and scheduling big events very difficult.
"In light of these cancellations, the committees of our member festivals/events have been taking a lot of heat from individuals in their communities. These individuals have been reciting the Governor's announcement; however, without fully understanding the contents of the order. We want to reiterate that an "Independent Fair" is NOT the same thing as a community festival or event. (https://ohiofairs.org/…/current-year-ohio-fairs-schedule.pdf), said Ohio Festival and Events Association.
Events like these are what people look forward to every season, plus they are good money makers in a time where businesses have been closed. Some Festivals like the Pumpkin show local businesses, "make or break" from the income from these events. Some events support local volunteer fire departments, and charities that give back to communities all year long.



The Following is a new list of cancellations of Fairs including a few that rescheduled at the beginning of the season, with newly added cancelations
– Bucyrus Bratwurst Festival
– Columbiana Street Fair
– Clinton County Corn Festival
– Beaver Oktoberfest
– Holmes County Antique Festival
– Dalton Holidays Festival
The current list of upcoming cancellations includes:
– July 16-19 – Miami Valley Steam Threshers (Plain City)
– July 17-19 – Greene Countrie Towne Festival (Greenfield)
– July 24-26 – Celina Lake Festival (Celina)
– Aug. 6-9 – Lexington Blueberry Festival (Lexington)
– Aug. 7-8 – Carey Fest (Carey)
– Aug. 7-9 – North Ridgeville Corn Festival (North Ridgeville)
– Aug. 13-15 – Bucyrus Bratwurst Festival (Bucyrus)
– Aug. 19-22 – Nelsonville Parade of the Hills (Nelsonville)
– Aug. 19-22 – Pemberville Free Fair(Pemberville)
– Sept. 2-5 – Sweet Corn Festival (Millersport)
– Sept. 5-7 – Canal Winchester Labor Day Festival (Canal Winchester)
– Sept. 5-7 – West Jefferson Ox Roast (West Jefferson)
– Sept. 10-12 – Columbiana Street Fair (Columbiana)
– Sept. 10-12 – Marion Popcorn Festival (Marion)
– Sept. 11-12 – Lithopolis Honeyfest (Lithopolis)
– Sept. 11-13 – Clinton County Corn Festival (Wilmington)
– Sept. 18-20 – Clyde Fair (Clyde)
– Sept. 19-20 – Johnny Appleseed Festival (Lisbon)
– Sept. 26-27 – Geneva Grape Jamboree (Geneva)
– Oct. 1-4 – Beaver Oktoberfest (Beaver)
– Oct. 2-3 – Ohio Swiss Festival (Sugarcreek)
– Oct. 10-11 – Holmes County Antique Festival (Millersburg)
– Oct. 10-11 – Ohio Sauerkraut Festival (Waynesville)
– Oct. 16-18 – Fall Festival of Leaves (Bainbridge)
– Dec. 5-6 – Dalton Holidays Festival (Dalton
The following members are still hoping to reschedule their 2020 event:
– Gallipolis River Recreation Festival – date TBD
The following festival is planning with modifications:
– Ashtabula Co. Covered Bridge Festival – no downtown activities, activities & entertainment at bridges only
The following August festivals/events are still planning at this time to hold their events:
– Aug. 13-16 – Ohio Valley Antique Machinery Show (Georgetown)
– Aug. 20-22 – Ohio Rural Heritage Festival (Ripley)