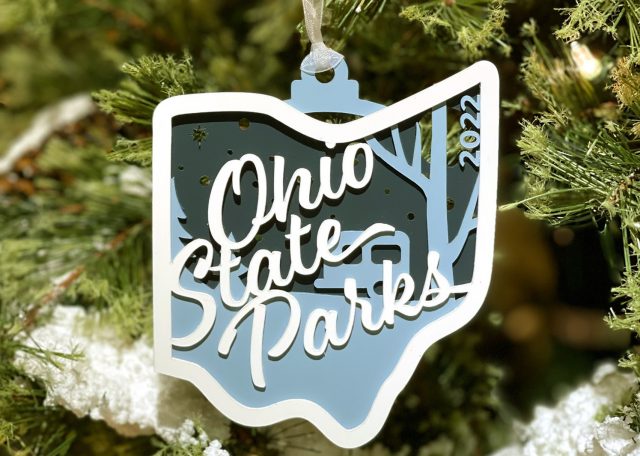 COLUMBUS, Ohio – For the outdoor enthusiasts in your life, the Ohio Department of Natural Resources (ODNR) is expanding its gift selection just in time for the holiday season. ODNR's new online store makes it even easier to find that perfect piece for your favorite hiker, angler, camper, or birder.


Memorable Gifts from Ohio State Parks

ODNR's Division of Parks and Watercraft offers a variety of gift ideas this holiday season. These items are exclusively available through our web store.

2022 Holiday Ornament: This limited-edition three-dimensional holiday ornament is the perfect gift for anyone who loves Ohio State Parks. The ornament is multi-layered laser-cut acrylic and features a winter camping scene. Each ornament is $12.


Ohio State Park Vintage Posters: Ohio State Parks' series of vintage posters feature iconic attractions and images from Cowan Lake, Hocking Hills, Lake Hope, Malabar Farm, Marblehead Lighthouse, Mohican, and Salt Fork state parks. Each poster measures 16"x24" and may be ordered online for $9.

Ohio State Parks Passport: The Ohio State Parks Passport is a great way to commemorate your visit to all 75 of Ohio's scenic state parks. The full-color booklet includes regional maps, photographs, and individual pages for each Ohio State Park. Learn what each park offers as well as interesting facts and local information. Users can "stamp" their passport, write notes, and memorialize each visit. Passports are available at state park camp stores and lodge gift stores for $10 each or may be ordered online.

State Park Gift Stores

While you are visiting a state park, don't forget to swing by one of their camp or gift stores to find a holiday gift for anyone on your list. Many of these locations also carry locally made items.
Hunting and Fishing Licenses
Ensure that your friends, children, and grandchildren have years of access to hunting and fishing in Ohio with multiyear and lifetime hunting and fishing licenses — unique gifts that will be appreciated for years to come.
Ohio resident hunting and fishing license buyers can choose from three-year, five-year, 10-year, and lifetime options. All funds generated from the sale of multiyear and lifetime licenses are deposited into the Wildlife Fund, where they will be used to protect and enhance Ohio's wildlife populations.
Licenses can be purchased online at Ohio's Wildlife Licensing System, with the Hunt Fish OH mobile app, and at hundreds of participating agents throughout the state.
Wild Ohio Magazine
The Wild Ohio Magazine provides readers a glimpse into Ohio's wildlife and conservation activities. The magazine is delivered six times each year, including a calendar edition. The cost is $5 per year for individuals who purchase at a license vendor, with the HuntFish OH mobile app, or online through the Ohio's Wildlife Licensing System.
Ohio Wildlife Legacy Stamps
Buying and giving an Ohio Wildlife Legacy Stamp allows wildlife enthusiasts the opportunity to directly impact the future of Ohio's native wildlife. The stamp proceeds go to the Endangered Species and Wildlife Diversity Fund and support: habitat restoration; land purchases and conservation easements; endangered and threatened native species; educational products for students and wildlife enthusiasts; and wildlife and habitat research projects. The individual purchasing an Ohio Wildlife Legacy Stamp for $15 will receive a collectible stamp, window cling, and commemorative card. The stamps may be purchased with the HuntFish Oh mobile app, through Ohio's Wildlife Licensing System or in the new online store. Showing your Ohio Wildlife Legacy Stamp at eight state park lodges can also earn the stamp holder a 25% discount on lodge rooms for weekday stays.

Ohio Geology Publications 

Looking for a unique gift for rock hound or hiker in your family? Browse the new ODNR Online Store for a wide selection of guidebooks, maps, posters, and apparel to help explorers of all ages see and learn more about Ohio's natural history.  

Gift Certificates: The Gift that Always Fits 

An Ohio State Parks gift card or gift certificate makes a perfect present for anyone who appreciates the great outdoors right here in the Buckeye State. Gift cards or gift certificates can be used at Ohio State Parks for overnight stays, allowing the recipient to enjoy their favorite state park or visit a new one! Gift cards or gift certificates may be redeemed for camping, getaway rentals, cabin rentals, and at most Ohio state park lodges. Gift certificates and gift cards may also be used at state operated retail stores or for boat rentals at many state park marinas. Available in any denomination and with no expiration date, gift cards, and gift certificates may be purchased online at reserveohio.com or by calling 866-644-6727.

Gift cards will be processed within three business days; expected delivery times vary depending on your location.

Gift certificates can be purchased online only, by creating an account or by logging into an existing account at reserveohio.com. Gift certificates are sent to your email automatically at the time of purchase in PDF format. Each one has a unique code that may be redeemed online or scanned from a printed or electronic copy.

Wildlife gift certificates can be purchased through the HuntFish OH mobile app or with Ohio's Wildlife Licensing System. Recipients may use the certificates to purchase licenses, deer and turkey hunting permits, and Ohio Wetland Habitat Stamps. Gift certificates may be purchased for any amount and are valid one year from the date of purchase. Wildlife gift certificates may only be purchased and redeemed online.