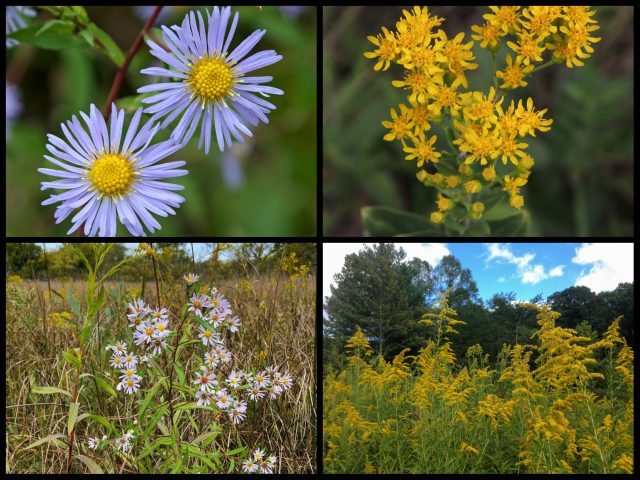 COLUMBUS, Ohio – The changing leaves aren't the only sight to see in Ohio this fall.  Autumn is the perfect time to spot beautiful wildflowers in bloom across the state.
"The wildflower show is not over just because the temperature is cooler," Ohio Department of Natural Resources Director Mary Mertz said.  "The autumn air fuels a burst of yellow, white, purple, and blue that Ohioans can enjoy before the winter weather sets in."
While spring brings a diversity of flowers, fall can be just as beautiful according to ODNR's Division of Natural Areas and Preserves.  The cool, crisp temperatures are perfect for aster and goldenrod blossoms.
These members of the sunflower family (Asteraceae) grow in just about any type of habitat from prairies to wetlands, woodlands and roadsides. Asters and goldenrods often grow together and can create some beautiful scenes of mixed colors. They also provide critical late season sources of food for many of our native pollinators such as butterflies and moths, bees, and beetles.
(Symphyotrichum puniceum)

 (Solidago rigida)
(Solidago altissima)
  (Willow Leaved Astor
& Ohio Goldenrod)
This seasonal explosion of color can be seen throughout the state. For some of the most beautiful fall wildflower displays, head to: Shawnee State Park and Forest (Scioto County), Lake Hope State Park (Vinton County), Chaparral Prairie State Nature Preserve (Adams County), Campbell State Nature Preserve (Lucas County), Jackson Bog State Nature Preserve (Stark County), Erie Sand Barrens State Nature Preserve (Erie County) and Stages Pond State Nature Preserve (Pickaway County).
To find a state nature preserve, state park, state forest, or wildlife area near you visit ohiodnr.gov.