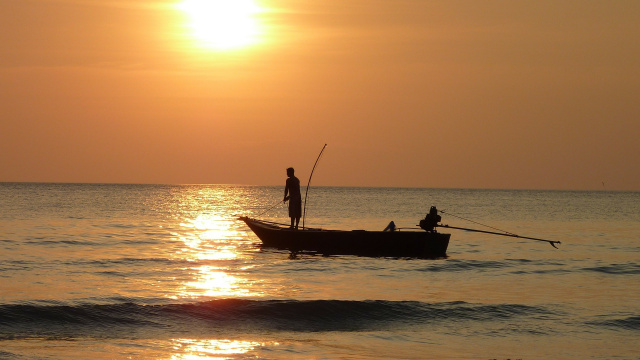 OLUMBUS, Ohio – Angler surveys are underway at many popular public waterways in Ohio, according to the Ohio Department of Natural Resources (ODNR) Division of Wildlife. Lake Erie angler surveys began in March and will conclude in October. Angler surveys at inland lakes, rivers, and reservoirs run from May to July.
Surveys are conducted by Division of Wildlife staff who collect information directly from anglers to generate estimates of fishing effort, catch rates, and harvest rates. The surveys are conducted across Ohio. All Ohio anglers are encouraged to participate in this important survey to help the Division of Wildlife better manage fish populations.
Clerks interview anglers about their fishing trips to gather details about the approximate location fished, time spent fishing, species targeted, species caught, as well as the number and length of fish harvested. Clerks also compile boat counts, boat trailer counts at boat launches, and angler counts at designated shore fishing locations.
Information collected during the angler survey is combined with other surveys conducted by the Division of Wildlife and partner agencies. These details are crucial to maintaining and improving the quality of Ohio's inland and Lake Erie fisheries. Historical surveys reveal that Ohio's most popular species to target include walleye, yellow perch, largemouth bass, smallmouth bass, trout, saugeye, sunfish, crappie, and catfish.
Surveys also play an important role in the future of Lake Erie fisheries management. Yellow perch and walleye information gathered from Lake Erie anglers is used by the international Lake Erie Committee to generate population estimates and establish total allowable catch rates, subsequently setting recreational fishing regulations for the following year.
In addition to estimating populations and setting fishing regulations, information gleaned from inland waterways is critical to understanding the success of stocking programs. Angler satisfaction and preferences helps to gauge where to allocate resources and management efforts to maximize unique angler opportunities.
The Division of Wildlife typically hires 18 clerks annually (eight for Lake Erie, 10 inland). Most are current or recent college undergraduates with a background in fish management or related fields. Several clerks have advanced their careers within the Division of Wildlife's fisheries section. If you are interested in working as a clerk in the future, visit seasonal job opportunities at wildohio.gov.
The Division of Wildlife is responsible for conserving and improving fish and wildlife resources in the Buckeye State. Follow the Division of Wildlife on Twitter and Facebook for instant news stories, outdoor recreation ideas, and so much more. The Your Wild Ohio Explorer page provides wildlife success stories and ways to help wildlife throughout the seasons. Visit wildohio.gov to find locations to hunt, fish, trap, and view wildlife. Follow us on Instagram to view the best of Ohio's wildlife photography. And don't forget about the HuntFish OH mobile app, available for Android and iOS users through the app store.