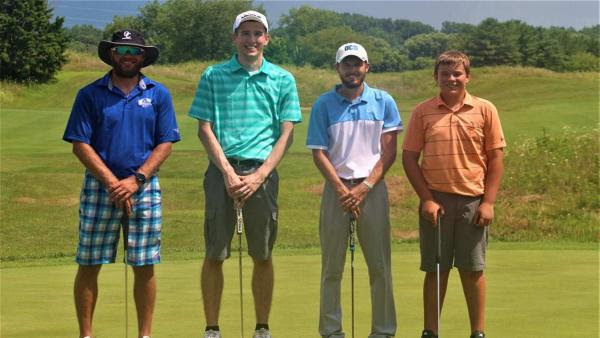 SOUTH BLOOMFIELD, OH – Last week, Ohio Christian University had the unique opportunity to help sponsor a local golf tournament at the university's home golf course, Cooks Creek. The event would be a Junior All-Star Tournament put on by the American Junior Golf Association, or AJGA. This was the second time that Cooks Creek has hosted the event.
The week began with a Pro-Am on Monday afternoon in which six Ohio Christian University employees would participate. Each group would be paired with one of the players from the tournament in a four man scramble event. Following the day's action, the teams would have the opportunity to learn more about the AJGA while eating a dinner catered by Buffalo Wild Wings.
Once Monday concluded, the players would take to the course Tuesday morning for the 54-hole tournament. On the boys side, Maxwell Ford would run away from the competition by shooting a 10-under-par 206 to claim his second AJGA title in only three career starts. Ford is a member of the Class of 2021. "This is a huge win for me and a great stepping stone for the rest of the summer." In the girls division, Lillian Berry (Class of 2020) would shoot 4-under-par 212 to bring home her first career AJGA title. "It's an honor to win and play in an AJGA event, and I am so grateful for the opportunity."
The AJGA is a 501(c)(3) nonprofit organization dedicated to the overall growth and development of young men and women who aspire to earn college golf scholarships through competitive junior golf. As an organization, more than 6,900 individuals are AJGA members. For more information on the AJGA and their mission, click here!
For more on Trailblazer Athletics and the rest of OCU Athletics, follow us on Twitter (@OCUtrailblazers), Facebook (Ohio Christian University Trailblazers), and YouTube (Ohio Christian University TraiIblazers)