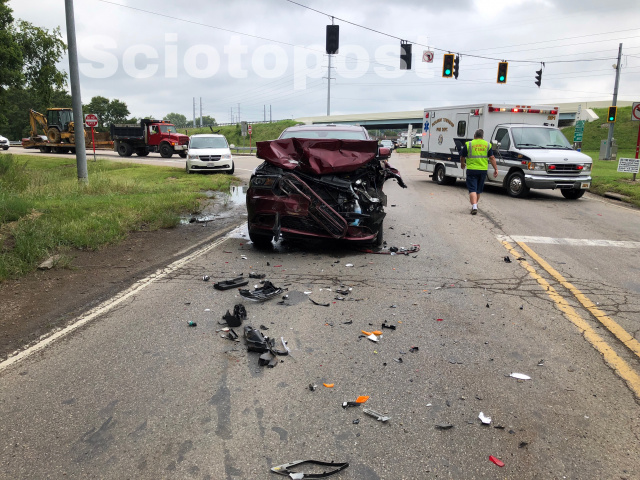 CIRCLEVILLE – A accident occurred today August 17, 2018 at the 22 and 23 intersections.  According to Pickaway County Sheriff, the Black Ford pick up truck was traveling westbound on 22 when he attempted to make a left turn onto 23 South ramps when the driver of the Dodge Durango rear-ended him sending him off the right side of the road.  Pickaway County Sheriff cited at fault the black truck for stopping and attempting an illegal left-hand turn.
Pickaway County Sheriff explained at the scene that the turn onto 23 south is a right turn only to prevent accidents in the high-risk area.  The Deputy said," he has given many citations on people taking left turns here.  Its marked twice." Pickaway County Sheriffs asked if I would remind them that the intersection in that area is right turn only for safety as there is a lot of blind spots and it is dangerous to turn left.
The deputy concluded that everyone was wearing seatbelts, and the lady in the Durango only suffered minor cuts and bruises and was released at the scene.
Pickaway County Sheriff and Pickaway County Sheriff where on the scene.
Copyright 2018 by Sciotopost All rights Reserved.  This material may not be published, broadcast, rewritten or redistributed.