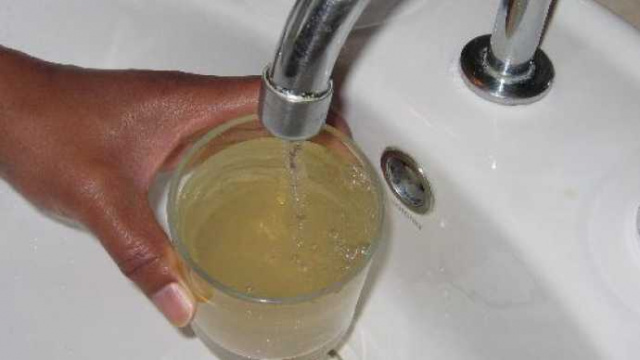 (COLUMBUS, Ohio)— Ohio Governor Mike DeWine, Lt. Governor Jon Husted, and Ohio Department of Development Director Lydia Mihalik announced today that the state will award $114 million in grant awards to support 70 critical water infrastructure projects in 58 counties.
The grants are part of the fourth round of the Ohio BUILDS (Broadband, Utilities, and Infrastructure for Local Development Success) water infrastructure program. Since its establishment, the program has provided a more than $360 million to support 253 local water projects impacting every county in the state."Ohio is the heart of opportunity, and for our state to continue to thrive, we must ensure that more communities have steady access to reliable, clean water," said Governor DeWine. "My administration is committed to supporting as many local communities as possible with water projects that will improve quality of life and give residents more opportunities to live up to their God-given potential." The grants announced today will help reduce or eliminate the local financial burden associated with critical infrastructure needs such as new water distribution systems, waterline extensions, water tower replacements, and new pipes and water mains. Grants will also fund projects to replace sanitary sewer systems, prevent sewer system backups, and extend sewer lines to allow for economic growth."Good infrastructure is vital for economic development and quality of life," said Lt. Governor Husted. "With these additional projects, we're able to expand our infrastructure to support development for businesses and housing for Ohioans."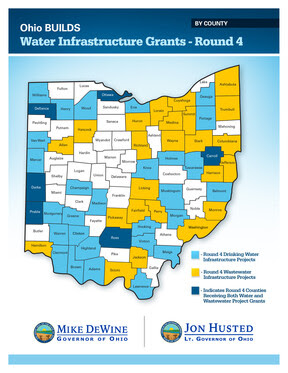 The DeWine-Husted Administration launched the Ohio BUILDS water infrastructure program in 2021 as a continuation of Governor DeWine's H2Ohio initiative, which launched in 2019 to focus on ensuring plentiful, clean, and safe water for communities across the state. In total, $500 million has been dedicated to the program, and a fifth round awarding additional funding will be announced later this summer.
The Village of New Holland (Pickaway County) will receive a $168,000 grant to upgrade their effluent lift station. The current inefficient and expensive pumps create overflows and have caused a broken force main. Upgrades to the pumps and control panel will increase reliability, mitigate health and safety concerns and lower operation and maintenance costs. The project will benefit 836 people
The Village of Bainbridge (Ross County) will receive a $2,630,900 grant to establish a gravity collection sewer system and wastewater treatment plant. The village is currently the largest unsewered community in Ohio and is served by onsite wastewater systems. The project will include the construction of a 150,000-gallon treatment plant and the installation
of 29,500 linear feet of gravity sewer line, 7,300 linear feet of force main line, 14,250 line
"At Development, we're working to build strong communities so that when people come to our state, we have the infrastructure and amenities to support them," said Lydia Mihalik, director of Development. "We're grateful to the Ohio legislature for additional funding to make these critical investments and help prepare our communities for continued growth." 
In addition to water infrastructure upgrades, Ohio BUILDS strategically invests in a broad range of projects to improve quality of life and support economic growth such as broadband expansion, brownfield redevelopment, the demolition of blighted buildings, and more.
Additional information on the Ohio BUILDS water infrastructure grant program can be found on the program webpage.