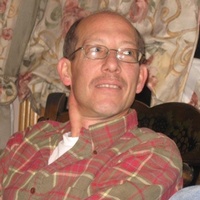 Michael Marczika, We lost our son, brother, nephew, uncle, and friend the afternoon of August 17th, 2017. We knew this day would come but hoped none too soon. Michael passed away quietly after a very long battle with COPD. Michael was a 1977 graduate of Franklin Heights High School and was a proud trumpet player for the Golden Falcons Marching Band. He earned the honor of being a participant in the Ohio Fair All State Marching Band in his senior year of high school. In 1998, he obtained his Bachelor degree in accounting from Franklin University, while working full-time at Krogers. Michael had a great love of family. He was an avid concertgoer with his favorite sidekick, Gene.
They saw numerous 70s, 80s, and 90s rock musicians throughout the years. He attended every high school wrestling match his brothers, Gene and Bryan, participated in and the three of them were known to enjoy a lively round of golf with their father and brother-in-law, Eric, for the coveted $1 purse. You would often find him in the stands at his nephews, Brandon and Nick's, travel baseball games. He traveled to numerous cities around the country to enthusiastically cheer them on.
California was a special destination spot for Michael, he visited on several occasions to spend time with Marianne, Eric, Grant, and Jared. If you were lucky enough to know our brother, Michael, you know what a heart of gold he had for you and his numerous pets Freckles, Bailey, Cheddar, Rufus, and Lucy. He leaves behind his parents, Eugene and Marianne, sister, Marianne Gibson (Eric), brothers, Gene (Juli), Bryan (Susie), along with his nephews: Grant, Jared, Eric, Brandon, Patrick, Nick, and Mitchell and his nieces Laura and Madison. His beloved Aunt Pat Douglas was Michael's top defender, protector and champion in his life. Michael was a diehard Parrothead fan until the end. We are confident that he is sitting in the Jimmy Buffet Margaritaville seating section in heaven.
We hope that you will put on your favorite Hawaiian shirt, your parrot hat, a good tune and dance one for Michael! He would love it! Arrangements are entrusted to SPENCE-MILLER FUNERAL HOME, 2697 Columbus Street, Grove City, Ohio. Visiting hours will be from 2-4 and 6-8 p.m. on Tuesday, August 29. A prayer service will be held at 7:30 p.m. We hope you will come visit and share a special memory or extend condolences. Mass will be held on Wednesday, August 30 at 10:00 a.m. at Our Lady Perpetual Help, 3730 Broadway, Grove City, Ohio 43123, with Rev. Fr. James L .Colopy Celebrant. Entombment will follow at St. Joseph Cemetery. Online condolences may be left at www.spencemillerfuneralhome.com
Tuesday, August 29, 2017
2:00 PM – 4:00 PM
Spence-Miller Funeral Home
2697 Columbus Street
Grove City, Ohio 43123