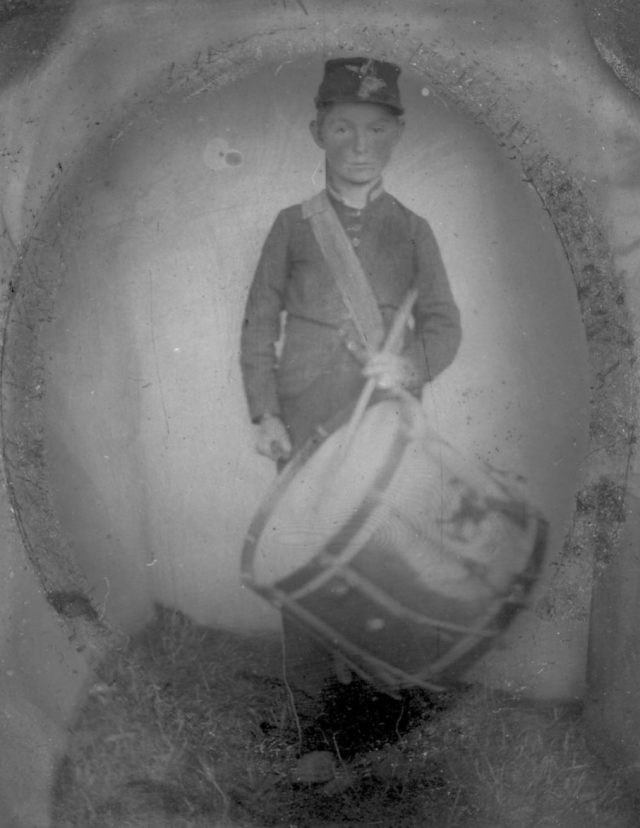 PICKAWAY – How young is too young to serve in the military? Back in 1860s it was pretty young.
Joseph Fissell was born September 19, 1852, in Circleville, Ohio to John and Katherine Diffendafer Fissell. There he grew up with his 4 brothers and 4 sisters. His father was a fence maker and farmer.
After the onset of the Civil war, Joseph joined other Ohio volunteers in Darbyville at the age of 11. That unit formed a volunteer militia. His three older brothers, George, John, and Wesley, were part of the group and he would join them on their practice marches. Joseph served as drummer for the makeshift group, but he desperately wanted to be enlisted in the regular army with a real troop.
On August 19, 1862, Joseph's father took Joseph and his three brothers on the long ride from Darbyville to Columbus Ohio by horse and buggy. The plan was to enlist Josephs's three brothers George, John Jr., and Wesley. During the enlistment, Joseph disappeared and when his father found him he found that Joseph had already convinced the recruiting officer that he would make a good regimental drummer and could effectively look after himself. John returned home without all four of his sons who had just joined the war.
On August 20, 1862, that battalion of troops was sent into the front lines in Kentucky but did not see war. Joseph was then transferred to Cincinnati where they defended it from E. Kirby Smith's troops. In the next few years the boy traveled around many places and the history was recorded well.
January 1863 – Left Lexington
February 18 to March 5 – Headed to central Kentucky to be part of operations against Roy Cluke's forces
March 22 to April 1 – Part of operations against Col. William Pegram's troops
April 26 to May 2 – Saw action at Monticello, Kentucky
In southeastern Kentucky until May 12
July 2 to July 25 – Fought Brig. Gen. John Hunt Morgan and Morgan's raiders
July 26 to August 6 – Fought Confederate forces in eastern Kentucky
August 16 to October 17 – Part of Burnside's Campaign and Siege
Stationed at Cumberland Gap, Tennessee until February 8
Stationed at Mt. Sterling, Kentucky until April 6
April 6 to May 5 – Marched to Knoxville and Cleveland, Tennessee
May 14-15 – Battle of Resaca
May 24-25 – Battle of New Hope Church
May 28 – Battle of Dallas
May 29 to June 6 – Engaged in skirmishes in and around Alltoona Hills, George
June 10 to July 2 – Battle of Marietta
June 27 – Battle of Kennesaw Mountain
June 22 to August 25 – Part of the Siege of Atlanta
August 31 to September 1 – Battle of Jonesboro
November 30 – Battle of Franklin
December 15-16 – Battle of Nashville
During the battle of Marietta Joseph was separated from his company and an old slave woman hid the young buy from Confederate soldiers looking for Union soldiers in the area. Once he reemerged from hiding the young soldier set out to find his unit, and along the way helped save his wounded captain from battle.
Joseph Fisell in 1865 was mustered and sent home where he reunited with his brothers who all survived the war. They were given a parade in their honor on their return home. Fisell lived to almost 70 years old before he died a local hero. He is buried in Evergreen Cemetery in Cincinnati.