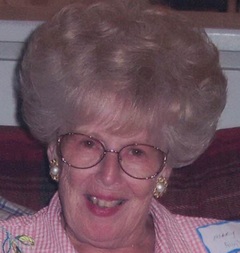 Mary F. (Goodman) Bowers, 81, of Lancaster, passed away October 31, 2017 at Fairfield Medical Center. She was born April 6, 1936 in Pickaway County to the late Larry and Catherine (Leist) Goodman. Mary was a 1954 Graduate of Amanda High School.
She is survived by her husband of 61 years, Richard "Dick" Bowers; children, Randy (Brian) Bowers of Florida, Rodney (Lee Ann) Bowers and Cathy Bowers all of Lancaster; grandchildren, Brad (Whittney) Bowers of Amanda, Greg Bowers (Nicole Griesdorn) and Stephanie Bowers both of Lancaster; great grandchildren, Raylan and Evelyn Bowers; brothers and sisters, Joane Hinton, Robert (Ann) Goodman, Butch (Nancy) Goodman, and Doris (Don) Peters; sister-in-law, Barb Goodman, brother-in-law, Chuck Todd; and numerous nieces, nephews, and friends.
In addition to her parents, Mary was preceded in death by her son Rusty Bowers; brother, Bud Goodman; sister, Vivian Todd; and brother-in-law, Don Hinton Funeral service will be at 1:00 P.M. on Saturday, November 4, 2017 at the Taylor Funeral Home in Amanda with Rev. Marilin Miller officiating. Burial will follow in Amanda Twp. Cemetery. Friends may call Friday from 2-8 P.M. at the funeral home.  The family would like to thank the staff at Fairfield Medical Center for the care given to Mary during her illness. Memorial contributions may be made to the Amanda-Clearcreek F.F.A., 328 E. Main St., Attn: Jeff Tilly, Amanda, OH 43102 in Mary's memory.