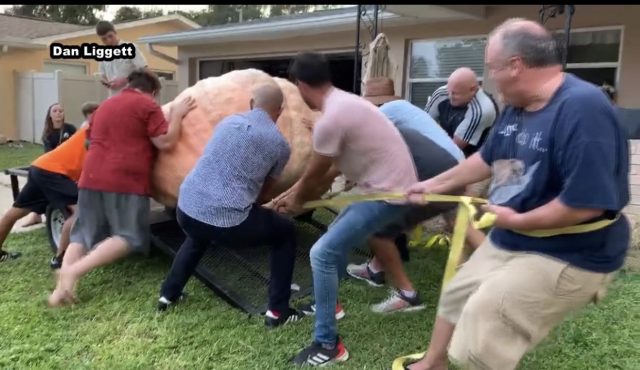 CIRCLEVILLE – What happens to the giant pumpkins after they are weighed and displayed at the Pumpkin Show? These thousand pound gourds are eventually harvested for their seeds, (Around a hundred) but what else happens to the giants?
Liggett send his to his son in Dunedin Florida for fun display during the halloween season. That a not the only reason though, according to Dr. Liggett his son bought him the seed for this years winning pumpkin from a grower of one of the biggest pumpkins ever grown in the US, it was a gift from Son to Father for Christmas. Dad must have decided to return the favor to his son by shipping down some love from Circleville over 1,400 pounds of it.
What did Dan Liggett, son of Bob Liggett do? He displayed it in his front yard for the season. Dan says, "its good and stable and ready for trick or treaters to take photos."

According to Liggett his parents met him halfway in Georgia on Monday of last week and they swapped the trailer. He then said it took 10-13 men to roll it into his front yard for display.
So the giant pumpkin has traveled from New York (seed) to Ohio and now to Florida.
Heres video of this same pumpkin being harvested