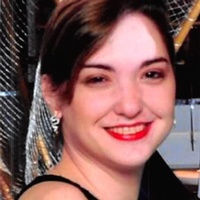 Leah V. Hollis, passed away unexpectedly on September 3, 2017 at the Cleveland Clinic, after living with cystic fibrosis for 23 years.
Leah was born January 12, 1994, in Columbus, Ohio the second of her triplet sisters, to Rhonda McBrayer Hollis and Victor Hollis.
Leah graduated from Zane Trace in 2012 and was the Vocational Valedictorian of her class. Leah attended the Ohio University of Chillicothe. Leah loved history and travel. She had traveled to several countries and the Eastern United States. Leah worked as a tutor at Ohio University Chillicothe. She was one of the most intelligent people and was very strong in her beliefs.
Leah loved to write and pursued the power of the pen. The family would like to thank Professor Debra Nickles in helping Leah work toward that dream.
Leah believed in the right to vote, registering to do so on her 18th birthday. She believed in the right to love who you want, a woman's right to choose, and healthcare for all. She was a powerful voice that we would all have had to recognize, that has been silenced to soon.
Leah is survived by her parents Rhonda McBrayer and Dave McGlone of Chillicothe and Victor and Dr. Nikki Hollis of Madison, Indiana; her sisters and best friends, Shelby Hollis and Jamie (James) Mumaw, all of Chillicothe; stepsister, Kirsten Markey, of Indianapolis, IN; her boyfriend, Christopher Schneider, who never left her side; grandmothers, Loretta McBrayer and Beverly Hollis; special friends, Brenda and Mark Greenberg, of Columbia, SC; Carma Lump, of Chillicothe, Ashley Conley, of Circleville and Sara Cox, US Navy and several aunts and uncles and cousins. She was predeceased by her grandfathers, James H. McBrayer and David L. Hollis.