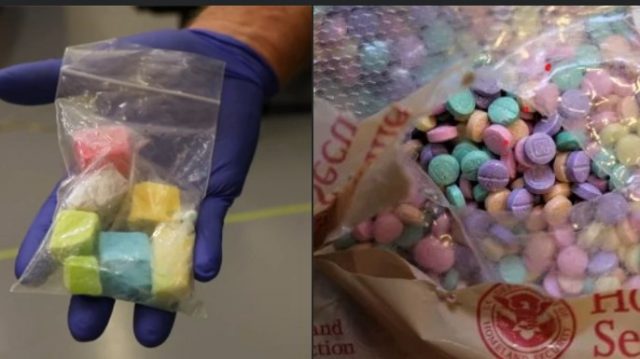 US – Law Enforcement across the country is reporting a new kind of Fentanyl, Rainbow Fentanyl.
The opioid that is 80-100 times stronger than morphine is a synthetic drug, meaning its made in a lab. The drug was originally made for surgery or people with chronic illnesses to manage pain has swept the country by force in the illegal drug trade business. Most overdose deaths in the US are caused by Fentanyl overdoses.
The new form of Fentyal is what law enforcement is most worried about. Rainbow fentanyl is a synthetic opioid that has been dyed in various colors. Not at all less potent but the chances of children using is greater.
At both the U.S. southern border and in Oregon, law enforcement officers have recently seized rainbow fentanyl in two forms – pills and pressed blocks. The pills could be easily mistaken for candy, and the pressed blocks resemble the sidewalk chalk that children play with.
"Not only are we concerned that children may mistake rainbow fentanyl as candy or a toy, but we're also worried that teenagers may be tempted to try the drug due to its playful coloring," said Law enforcement.
"If your kiddos play in public spaces, such as the local park, please be on the lookout for suspicious substances. If you are a parent of a teenager, please talk to them about the dangers of fentanyl, and other drugs."