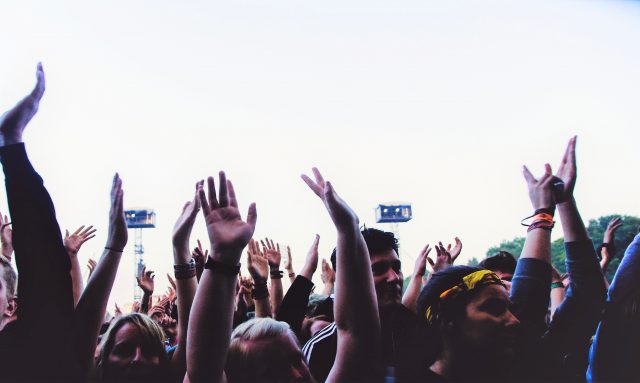 PICKAWAY – Take back the strip and Tunestone productions are hosting the 2nd annual Kidspalooza on September 25 at 27350 us 23.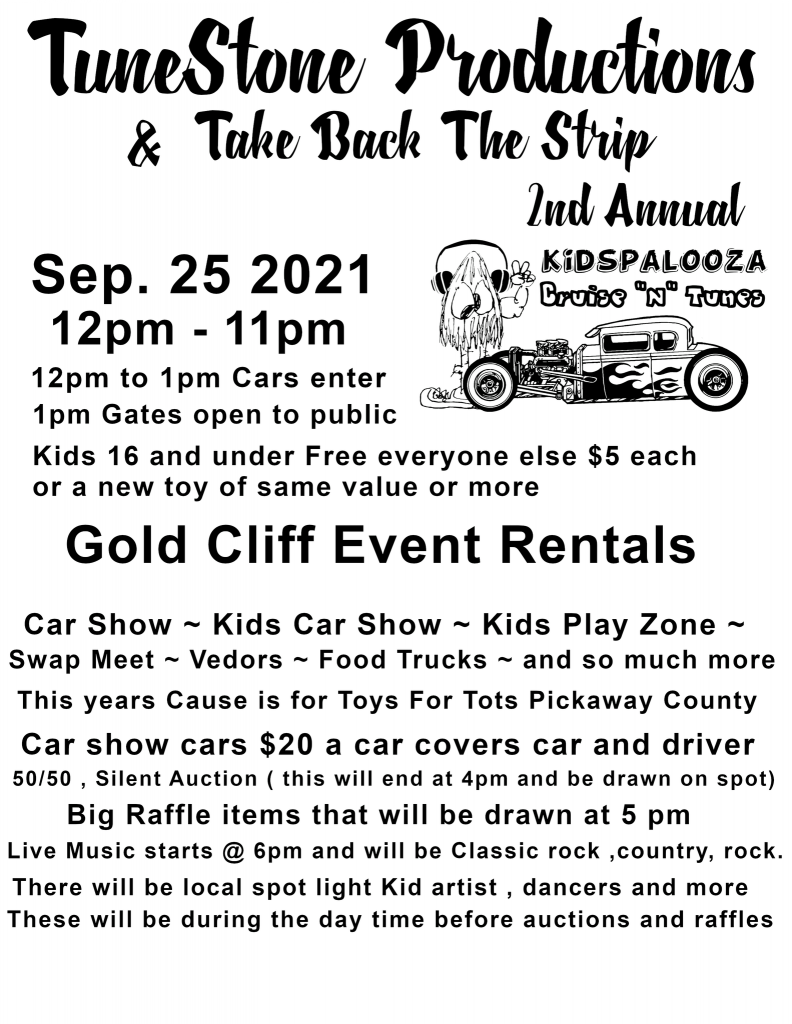 The event will start at noon on Saturday and will host a car show, vendors, food trucks.
Kidspalooza Cruise N Tunes Saturday September 25th from 1pm to 11pm with tons for the whole family to get involved in! All to benefit PICCA Toys for Tots! Put on by Tune Stone Studio/ Production and Take Back the Strip.
Cost: Adults $5 or new unwrapped toy Kids 16 and under free! Carshow entry- $20 Fleamarket spot $50 Any local area kids wanting to come put after Homecoming show the gate your HOCO ticket and get in free for the live bands!!!
All kids activities are free to the kids!!!!! The outreach ministry from the Heritage Nazarene Church in Circleville will be providing 3 bounce houses from 1pm to 4pm as well as FREE hotdogs chips and desserts for the kids!
We will also have a smash a car for for the kids to paint and smash provided by Scioto Valley Wrecking Service. From 1pm to 11pm We have a kids ride show! So any kid can bring the bike/four wheeler/ powerwheels whatever they want. If they ride it and are proud of it they are welcome to come show it off!
We have several food trucks on-site as well as Box 65 frying fish! Come with an empty stomach leave full!!!! While all this cool stuff the kids is going on we are also having a carshow with just over 30 trophies to be awared and a silent auction as well as several raffles and 50/50 drawings!
A flea market area where we are inviting anyone that has something they want to sell to setup! From crafters, swapmeet to yardsale leftovers. If you have it and want to sell it come set up!! This fun all starts at 1pm and awards and drawings to start at 6pm.
Then it's on to the live entertainment!!! We have 3 great bands this year! The Phantom Queens, Paul Allen and Wiskey Ridge and Ragtop Down! They will start as soon as awards and drawings are done and will play till 11pm!!! Hope to see everyone everyone Saturday this a Rain or Shine event for a great cause!
A music concert with 50, 60, 70 rock, classic rock, and country music starts around 7 pm.