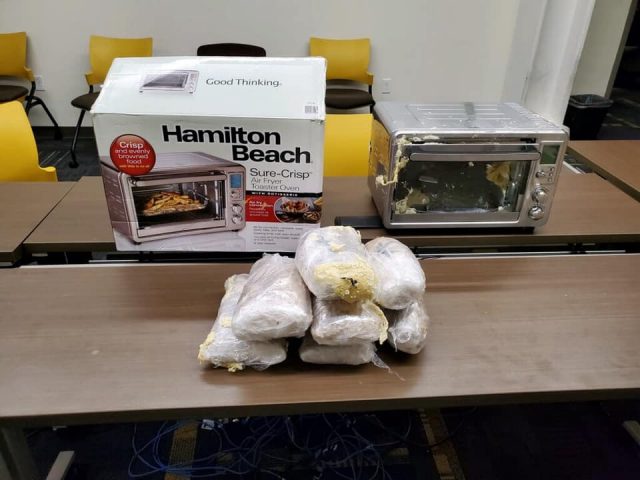 Kentucky – A Kentucky police department is giving tips on how not to transport 20 pounds of methamphetamine.
Protip: If you're gonna deliver 20 pounds of meth in an air fryer, make sure it gets to the dealer.
Today, our Major Case Unit 1 in Narcotics tracked a parcel containing over $100,000 dollars of dope to an address on Yorktown Rd. MCU1 verified the package was delivered and executed a search warrant to retrieve the parcel. MCU1 seized 9 kilograms of methamphetamine (about 20 pounds). The suspect was not home at time of seizure. On blast… Hey, Mr. Sergio Figueroa, if you want your dope… call LMPD. 😁 This is obvi an on-going investigation. We're not done.
They then tagged the Facebook post with some pretty funny hashtags
#LMPD #Narcotics #MajorCase #MCU1 #Kilos #Meth #DeliveryProblems #ShouldaInsuredIt #ItsOursNow #Poundage #Microwave #MethMicrowave #SureCrispAirFryer #HamiltonBeachProbs #SetItAndForgetIt #SavingThemTeeth #ParcelProbs #GoodThinking #YellowChairsDontCare #WeWorkOnSaturdaysToo #WeAreThePorchPiratesThisTime #Precious #SearchWarrants #DopeOfDaSkreets #ThrowBack #WhereInTheWorldIs_SergioFigueroa #WheresSergio #WeGotYourBlackFridayPurchaseBruh #SadChristmas #NaughtyList