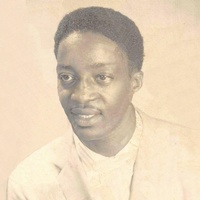 Reverend Johnny B. Gadson, 82, of Chillicothe, died 5:37 p.m. Sunday, August 20, 2017 at the residence of his daughter.
He was born November 26, 1934, in Alabama City, AL to the late Ernest B. and Priscilla Harris Gadson. On June 16, 1962, he married the former Bertha C. DeRamus who preceded him in death April 29, 2011.
Surviving are daughters, Attorney Jonnetta D. Gadson and Saundra B. Gadson RN, both of Chillicothe; granddaughters, Asher Madison "Mattie" Gadson and Michal Alexaundra "Ali" Gadson; three brothers, Rev. Roszell (Delores) Gadson, East Gadsden, AL, Wallace (Zell) Gadson, East Gadsden, AL and George W. Gadson, Gadsden, AL; a sister, Josephine Harrold, East Gadsden, AL, and many nieces, nephews, and cousins including special cousin, Leronza Harris, Sr. He was predeceased by brothers, Ernest Jr. and Jessie Gadson and sisters, Emily Howard and Alberta Gadson.
Johnny was a retired custodian for the Montgomery Alabama School System. He served in the U.S. Army, 82nd Airborne Division, during the Korean War. Johnny was a member of the First Baptist Church, Alabama City, AL and a graduate of the University of Alabama where he studied Architectural Engineering and graduated with a degree in History. Johnny loved drawing architectural design and writing poetry. He will be greatly missed.
Funeral service will be held 11 a.m. Saturday, August 26, 2017 at First Baptist Church, Alabama City, AL with Rev. John M. Woods Sr. officiating. Burial will follow in Lincoln Hill Cemetery, Gadsden. Local arrangements are under the direction of the WARE FUNERAL HOME.
You may sign his online register at www.warefh.com