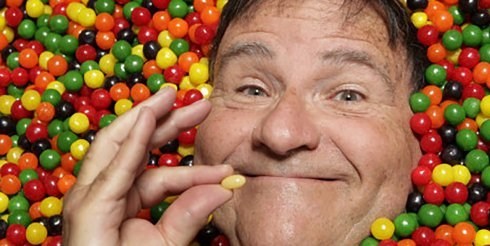 US – Jelly Belly founder David Klein is getting to retire and how he is going out is going to be fantastic. Plans are already moving to retire in the fashion of the movie Willy Wonka.
In the movie Willy Wonka a candy maker opens up his candy factory to winners of a golden ticket, the prize the candy factory. This is a similar story that the owner is planning on doing in real life.
According to a press release, David and his partner have started going across the USA hiding gold style tickets in the form of necklaces in places they come across with an interesting story. Plans are to have multiple treasure hunts for these gold tickets in each state. You can join one of their treasure hunts which are launching right now at www.TheGoldTicket.com.
Anyone who joins the treasure hunt will be eligible to win the ultimate treasure, a key to one of his candy factories, a all-expenses paid trip, and education to a candy-making university.
"With The Gold Ticket Treasure hunt, our goal is to get people out and about with their families. Grandma and Grandpa can even join with the kids and grandkids," said David Klein, "The Candyman". "Take videos of your treasure hunt experiences for possible inclusion in our upcoming series."
For more infomation on this click here: https://www.facebook.com/david.klein.14