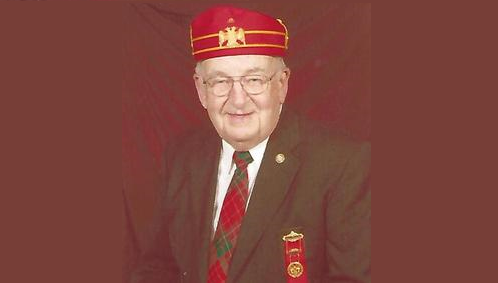 James E. Shaw, 84, of Circleville, OH, died Tuesday November 7, 2017.  He was born on August 15, 1933 in Logan, OH.  He was preceded in death by his parents, Harry E. and Lucy (Conrad) Shaw, sister, Donna J. Fick and niece, Debra Sue Fick.  He is survived by his son, Timothy R. (wife-Jeanie); grandson, Nicholas James.; granddaughter, Emma Elizabeth.; nephews, Alan, John and Douglas Fick and cousins in Toledo and Logan.  He was a retired banker.
He was a member of Community United Methodist Church, U.S. Army Veteran of the Korean War, Life member of American Legion Post No. 134 and Amvets Post in Circleville.  Fifty year member of Pickaway Lodge No 23, Circleville Chapter No 20, Tyrian Council No. 60, Scioto Commandery No. 35, Scottish Rite Valley of Columbus.  Member of Ohio Priory No. 18 Knight York Cross of Honor, St. Jerome Conclave of Red Cross of Constantine, Ohio Valley York Rite College and Circleville Chapter No. 90, Order of Eastern Star.  He received the Knight Commander of the Temple from the Grand Encampment of U.S.A. and the Mertious Service Award from the Ancient Accepted Scottish Rite.
Commissioned a Kentucky Colonel.  Funeral service will be held 10:00 a.m. Saturday November 11, 2017 at the Wellman Funeral Home, Circleville with Pastor Ted Alspach and Chaplain Jim Ferrell officiating.  Burial will be in Oak Grove Cemetery at 12:00 noon with military honors.  Visitation will be 4-8 p.m. Friday with Masonic Service at 7:00 p.m.  The family suggest contributions be made to the Endowment Fund of the Community U.M.C. 120 N. Pickaway St. Circleville, OH  43113 or 32nd Degree Masonic Learning Center Valley of Columbus, A.A.S.R. 290 Cramer Creek, Dublin, OH 43017.  The family would like to thank the staff of Brown Memorial Home and Berger Hospice for their love and compassion.  Online condolences may be made to www.wellmanfuneralhomes.com.