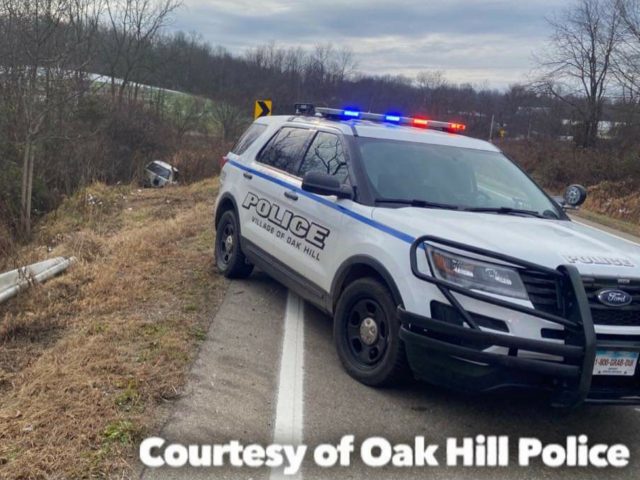 Jackson County OH- Pursuit ends with arrest
Several law enforcement agencies teamed together on Thursday morning in an effort to apprehend a theft suspect and parole violator.
Jackson County Sheriff' Tedd Frazier's deputies received a report of a theft in progress on Evans Road Thursday morning at approximately 9:47 a.m. When deputies arrived on scene, they attempted to apprehend the suspect, later identified as 44-year-old Charles William Boyd, Coffman St., Jackson. Boyd, fled in a white Toyota RAV 4 towards Route 93. With deputies following, Boyd led authorities, via Mt. Zion Road, through the City of Jackson, where Jackson Police and Ohio State Highway Patrol joined in the effort to apprehend Boyd.
The pursuit left the city's limits on Chillicothe Pike, where Boyd continued to Jackson Hill Road, Route 93, and on to several roads between Jackson and Wellston trying to evade capture. Boyd entered the City of Wellston, then continued to work his way to Vinton County and then back to Jackson County.
After over an hour of trying to evade authorities and their multiple attempts to safely disable Boyd's vehicle, Oak Hill Police were able to deploy stop sticks and block Route 327, near Keystone Furnace Road. Deciding to drive between the cruiser and the guardrail, in an effort to avoid driving over the stop-sticks, Boyd drove between the OHPD cruiser and a guardrail, where he lost control, coming to rest in the weeds at the bottom of a ditch.
Boyd was apprehended by authorities and taken in to custody.
Boyd is currently being held on an Adult Parole Authority parole violation. Deputies are currently working on multiple charges against Boyd for the pursuit. He may also face additional charges stemming from an ongoing JCSO investigation.
"We were very fortunate today," said Sheriff Frazier. "Boyd had made threats of shooting and ramming law enforcement. Multiple agencies worked together and apprehended a criminal with no injuries," Frazier added. "This could have ended differently," Sheriff Frazier said.
Sheriff Frazier thanked his deputies, the Oak Hill, Jackson, Wellston and McArthur Police Departments, as well as Vinton County Sheriff Deputies, and the Ohio State Highway Patrol, Ohio State Patrol's K-9 and Aviation Divisions.
Boyd is currently incarcerated at the Jackson County Correctional Facility.
No other information is available at this time, as this incident remains under investigation.