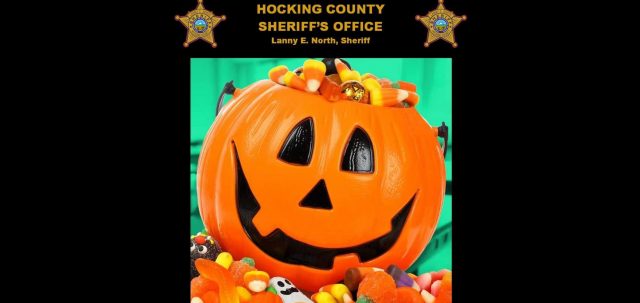 Hocking County OH- To date, the Hocking County Sheriff's Office is currently aware of the following dates and times for Halloween 2020 Trick or Treat in Hocking County.
Gibisonville:
Sunday, October 25th, 2:00pm – 4:00pm
Logan:
Sunday, October 25th, 5:00pm – 7:00pm
There will be NO Halloween Parade
(Rain date is Sunday, November 1st during the same times)
Rockbridge:
Sunday, October 25th, 5:00pm – 6:00pm
Union Furnace:
Sunday, October 25th, 5:00pm – 7:00pm
Laurelville:
Thursday, October 29th, 6:00pm – 7:00pm
Murray City: Thursday, October 29th, 6:00pm – 7:00pm
Carbon Hill: Thursday, October 29th, 5:00pm – 6:30pm
Hocking County Sheriff Lanny E. North obtained permission from the Hocking County Commissioners to open the front entrance to the Hocking County Courthouse during the hours of Halloween in the City of Logan on October 25.
Deputies will be on duty in the courthouse from 5p.m. – 8 p.m. to screen any candy through the courthouse x-ray machine during these hours.
Anyone from the villages may bring their candy to the courthouse during normal business hours and the deputies will be glad to scan their candy for them.
Additionally, Sheriff North wants to remind residents that there are 59 registered sexually oriented offenders that live within Hocking County, and wants individuals to know where they reside so that you avoid those houses when trick-or-treating.
The Hocking County Sheriff's Office does the best in making sure sex offenders live where they are supposed to, so it is crucial that our citizens visit our website to see who the registered sex offenders are and where they are living.
Citizens are encouraged to check any addresses where they or their family spend time. The mapping and address feature found on the website pinpoints exactly where an offender lives.
You will also find many other beneficial tools such as the ability to sign up for FREE automatic email notifications informing you if an offender moves within a specified radius of any address you register. If you aren't planning on trick-or-treating in your neighborhood, but will be in a different neighborhood, register that address beforehand so you know which houses to avoid. You can register any and all addresses where your children spend time; for example: friends', grandparents', or babysitters' addresses.
The alerts are in real-time and sent out via e-mail as soon as a new offender has registered with the Sheriff's Office. The benefit of registering for this free confidential e-mail alert service is that it allows us to monitor important addresses for you, thereby keeping you up-to- date of newly registered offenders and making it unnecessary for you to have to check important addresses daily or even weekly.
The website for the Hocking County Sheriff's Office is www.hockingsheriff.org. Citizens should click on the link "Search for Offenders, in your area," and follow the instructions to check their neighborhood offenders. You may click "register for email alerts to sign up to receive FREE e-mail alerts about nearby offenders.
You may also click onto the link entitled "Register for Offender Alerts" along the left side of the HCSO Facebook page.
Another method to check on addresses where sex offenders reside is to download the Hocking County Sheriff's Office Smart Phone App.
It is available for both Apple iPhones, in the App Store and Android devices in the Google Play Store.
You can download our FREE app to your smartphone or tablet from the
following links:
Apple: https://itunes.apple.com/us/app/hocking-county-sheriff/id1456863479?mt=8
Android: https://play.google.com/store/apps/details?id=com.ocv.hockingcountyohsheriff
HCSO encourages everyone to have a fun and safe Halloween. Knowledge is power and knowing where the registered sex offenders reside in your area can help you make the best choices for safe and enjoyable Halloween activities.