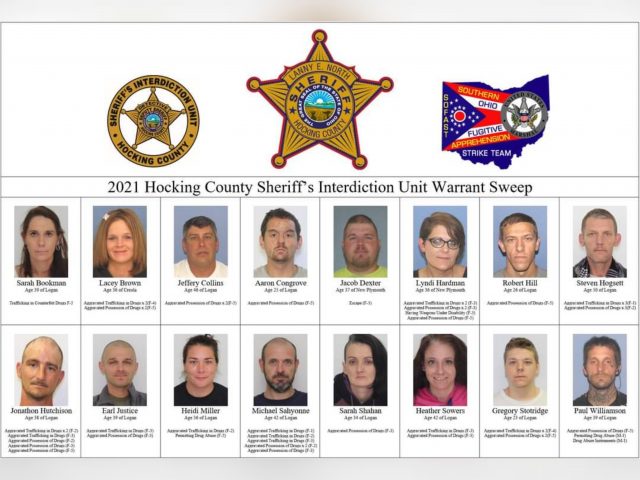 Hocking County OH- On Wednesday, May 26th, the Hocking County Sheriff's Office and the U.S. 23 Major Crimes Task Force with assistance from the United States Marshal Service's Southern Ohio Fugitive Apprehension Strike Team (SOFAST) executed several arrest warrants for narcotics related offenses.
The arrest warrants were the result of long-term narcotics investigations conducted by Hocking County Sheriff's Interdiction Unit Detectives assigned to the U.S. 23 Major Crimes Task Force, which is the drug task force that serves Fayette, Highland, Hocking, Pike and Ross Counties.
Hocking County Sheriff Lanny E. North stated: "Many of yesterday's arrestees were indicted on high level felony charges which were the results of very complex, in-depth, and long-term investigations."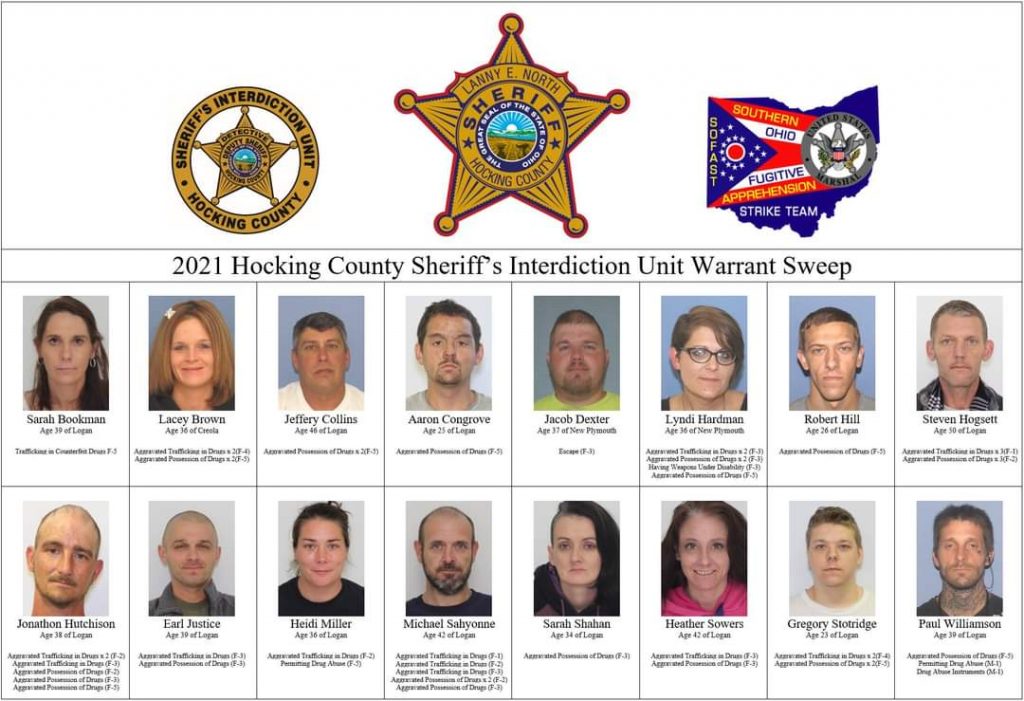 "We are thankful to have dedicated partners who assist us in battling the drug epidemic within our community. We will continue to work in a coordinated and concerted effort and leverage any and all resources available to us to combat the drug trade."
Jon Long, Commander of the U.S. 23 Major Crimes Task Force, said: "Dedication and collaboration were the two main elements that led to such a successful operation. The citizens of Hocking County should be proud of their Sheriff, his devoted detectives, and our Drug Task Force partners who work every day to make Hocking County safer by removing narcotics from the streets and hold those who sell them accountable."
Hocking County Prosecuting Attorney Ryan R. Black said: "I would like to thank SOFAST and the partner agencies for their exemplary work in rounding up a significant number of individuals deeply involved in significant drug crimes. My Office looks forward to prosecuting these cases aggressively and we aim to continually support law enforcement's efforts in removing these dangerous and deadly drugs, and their sellers, from the community, by doing our part in the courtroom."
Peter C. Tobin, United States Marshal for the Southern District of Ohio stated: "Our Deputy US Marshals and Task Force Officers were happy to be part of yesterday's operation. Hunting down and arresting wanted fugitives is dangerous but important work. I want to commend all who went out yesterday and those who conducted the investigations that led up to this day."
The Southern Ohio Fugitive Apprehension Strike Team (SOFAST) is a fugitive-focused, United States Marshals Service-led task force consisting of local, state and federal law enforcement agencies.
Sheriff North closed with this message:
"To the individuals suffering from drug dependency; come to us, ask for help and we will connect you to the vast resources available to help and treat your addiction."
"To the individuals spreading your drugs and poison throughout our county; stop now, or your name will soon appear on our list of arrests."
As always, the Hocking County Sheriff's Office depends on the cooperation and partnership with the community to effectively combat crime. We continue to urge residents to contact us with tips regarding suspected drug dealers. Tips can be sent, anonymously, via phone call or text message to 740-380-4276.