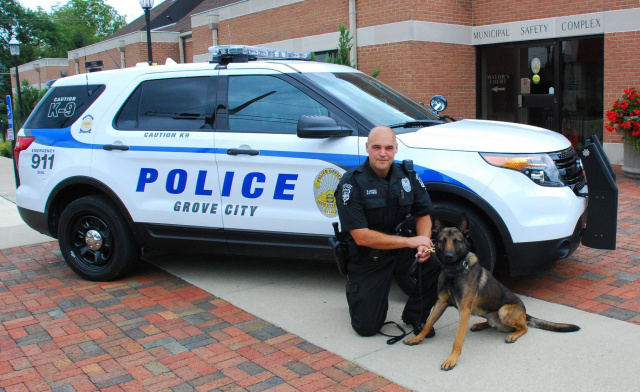 GROVE CITY – K-9 Units are trained in all kinds of different situations including narcotic detection, criminal apprehension, article search, handler protection, and human tracking. Recently, Grove City's K-9 Max assisted officers by helping locate a man fleeing a scene.
On 7/12, a young woman called Grove City Division of Police to report she had been assaulted by her boyfriend. She stated that she was picking her boyfriend up from work when a minor argument started. That argument quickly escalated into violence. As the woman was calling police, her boyfriend fled the scene on foot. She gave the officers a description and they began searching for the man. Two employees at a nearby business notified officers that a man matching that description had just walked by them a few minutes prior.
Officer Kitko and K9 Max headed in the direction indicated by the employees. After several minutes of searching, Officer Kitko and Max conducted an area search. While passing a closed semi-trailer, K-9 Max alerted to the rear of the trailer, which was unlocked. When officers began opening the trailer, they found a man hiding inside. They visually confirmed that he was the man they were looking for. The man was compliant with officers after being ordered to step out and was secured without incident.
K9 officers such as Max are extremely helpful to a police department. The professionally trained Canine Unit contributes to the Grove City Division of Police Mission by assisting agency personnel in the performance of their duties through criminal interdiction, evidence tracking, searches and community relation efforts. The Canine unit may also be deployed to locate lost persons or victims in natural disasters, such as in this situation.