OHIO – Governor Dewine said that he will extend the 10 pm curfew again in Ohio because numbers are still too high.
"People are anxious, people who own bars or restaurants or want to go there…I get it, but we're not there yet. As Governor, I have to try to keep this virus down while we're getting the vaccines out…the way out of this, in the end, will be the vaccine," said DeWine during a press conference.
Dewine said that he did not see counties worse and turn purple on the Ohio Health Advisory system, but the numbers did not go down as far as he would like it either. Curfew extension was set to expire on Saturday, January 23rd, Dewine did not outline when the curfew would end.
The Governor said out of any 200 Ohioans, at least 1 has tested positive for COVID during the past 2 weeks. We still have more than 1 out of 4 patients who are COVID positive in our ICUs.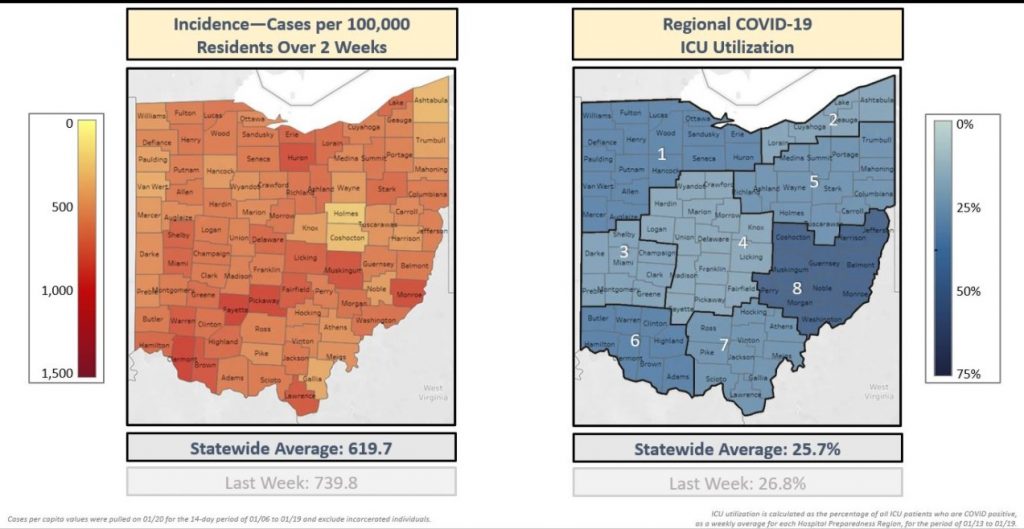 Just weeks ago Pickaway county was ranked as the highest occurrence of cases in Ohio, but has moved down to third. Fayette county adjacent to Pickaway has become number one.
Some businesses are exempt from the curfew order grocery stores, gas stations, and other businesses deemed essential can remain open overnight.