Powell, OH — Thanks to the assistance of devoted caregivers and other experts along the way, manatees, Scampi, Acorn, Einstein, have achieved many milestones after first being rescued as orphans off the coast of Florida. Now, they have completed their rehabilitation at the Columbus Zoo and Aquarium and made their journey back to Florida late Friday night.
A member of the Zoo's Animal Care team, along with one of the Zoo's staff veterinarians, traveled on a DHL flight with the manatees and confirmed that they arrived safely at a Central Florida facility this afternoon. There, Scampi, Acorn, and Einstein, will complete their final preparations to be returned to the areas in Florida where they were initially rescued.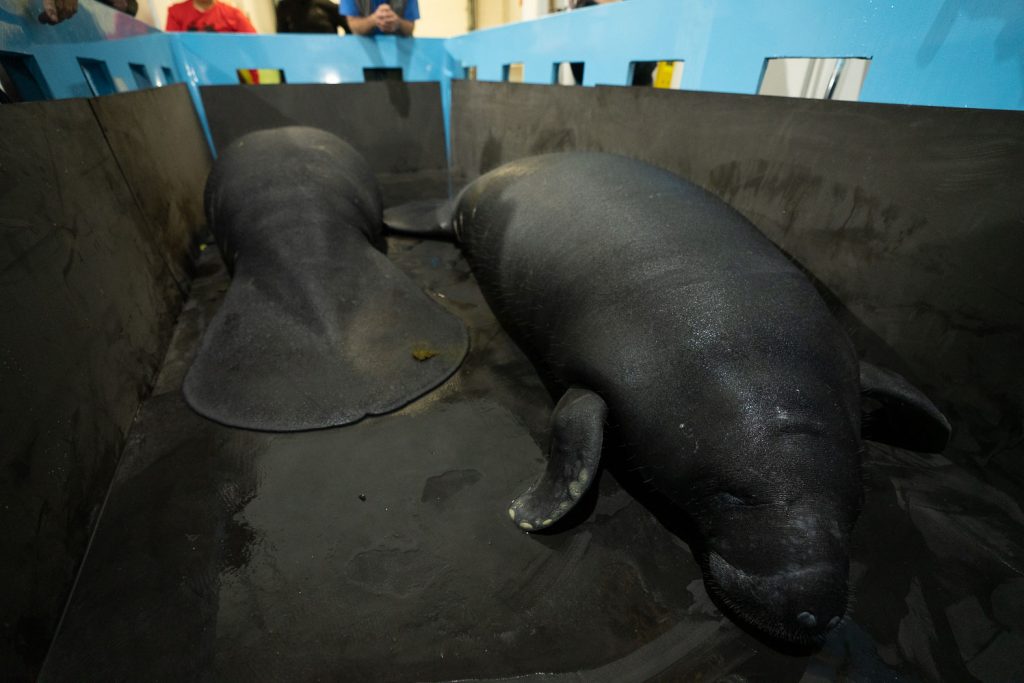 Scampi arrived at the Columbus Zoo on October 22, 2020. She was rescued in Florida with her mother, Jumbo, on November 22, 2019. Sadly, Jumbo passed away due to her extensive injuries from a boat impact wound. After receiving care and gaining some weight at the Miami Seaquarium, Scampi arrived at the Columbus Zoo weighing 200 pounds, which was still considered to be small for a manatee, as they can weigh over 2,000 pounds as mature adults.
Acorn and Einstein were both rescued by the Florida Fish and Wildlife Conservation Commission in the fall of 2020. Acorn arrived at ZooTampa in November 2020 after he was found emaciated and floating off a dock in Crystal River. Once he gained some weight and completed his first stage of rehabilitation, he came to the Columbus Zoo on April 24, 2021, weighing approximately 315 pounds. Thanks to the care he has received, Acorn recently weighed in at 698.5 pounds!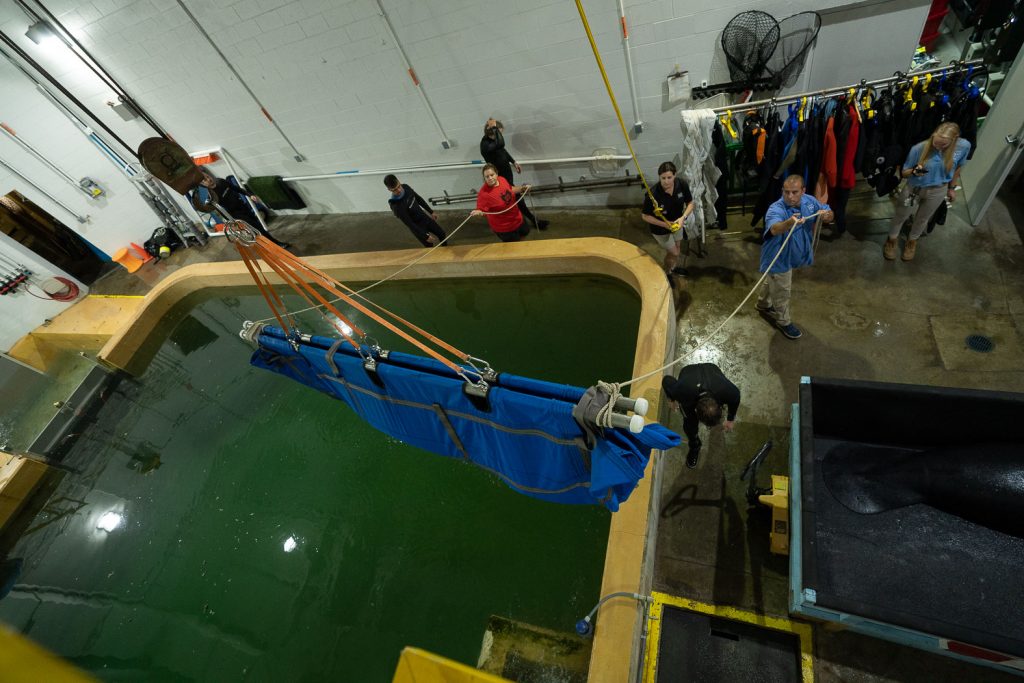 Einstein arrived at ZooTampa in August 2020 from Steinhatchee River with his injured mom, who unfortunately did not survive her injuries. He also arrived at the Columbus Zoo on April 24, 2021, and he weighed approximately 470 pounds at that time. He now weighs 585 pounds and, like Acorn, is considered to be healthy and ready to begin preparing for his return to Florida waters.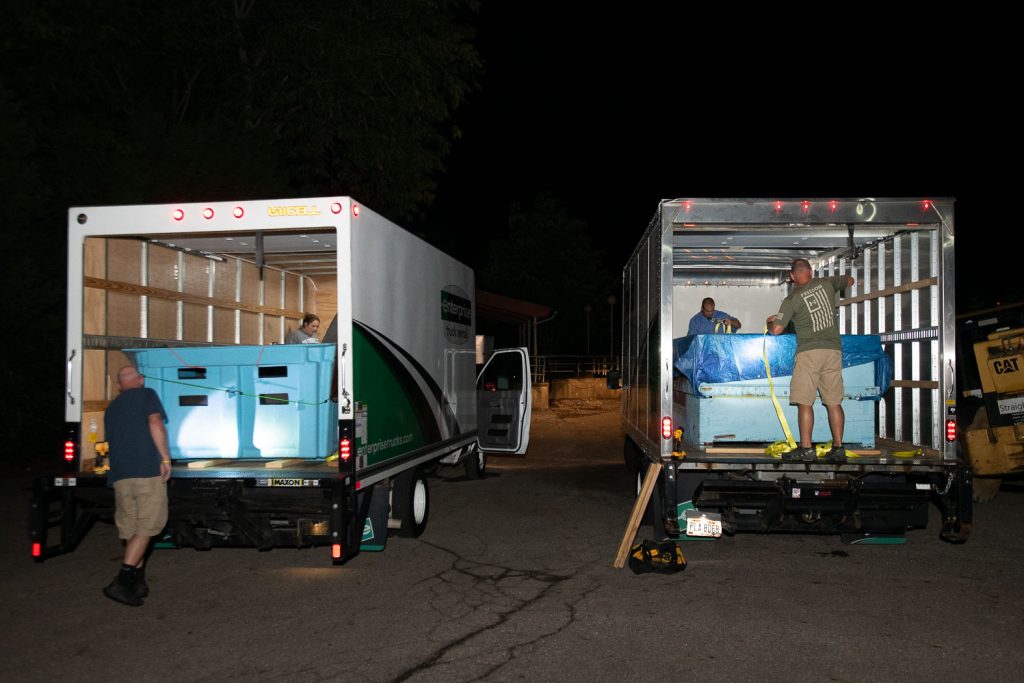 With the departure of Scampi, Acorn, and Einstein, six manatees still remain at the Columbus Zoo—MaryKate, Ashley, Cardi-Tee, Lizzo, Squirrel, and community favorite, Stubby. Unfortunately, due to Stubby's extensive injuries from a boat strike, she is considered to be a conditionally non-releasable animal. Her condition is evaluated every five years to determine if she is ready or not to return to Florida, but it is unlikely that she will move out of this category. Instead, Stubby has often assumed the role of a surrogate mother looking after the other manatees. She is the first to greet newcomers during their introduction to the Zoo's Manatee Coast habitat.

"From the time each manatee arrives in our care, they have an important story for us to share with guests. Our Zoo's mission is to lead and inspire by connecting people and wildlife, and we are incredibly proud to put this into action by engaging others to care about the world's oceans and join us in making a difference for aquatic species and others that depend on them. Every manatee steals our hearts while they're in our care, and so it can be bittersweet to say goodbye. However, these are also the moments that we celebrate. As Scampi, Acorn, and Einstein begin this next phase of their return to Florida waters, it defines this remarkable collaborative program's success in helping to protect the future of this species," said Becky Ellsworth, curator of the Columbus Zoo's Shores and Aquarium region.
As part of the Manatee Rescue & Rehabilitation Partnership (MRP), the Columbus Zoo and Aquarium is a second stage rehabilitation facility that provides a temporary home for manatees until they are ready for release back to the wild. Including Scampi, Acorn, and Einstein, the Columbus Zoo has helped 32 manatees return to Florida after completing this stage of their rehabilitation.
The MRP is a cooperative group of non-profit, private, state, and federal entities who work together to monitor the health and survival of rehabilitated and released manatees. Information about manatees currently being tracked is available on the MRP website. The Columbus Zoo and Aquarium was the first program partner outside of the state of Florida and is one of only three facilities outside of Florida to care for manatees.
Manatees are at risk from natural and man-made threats. Some of these threats include exposure to red tide, cold stress, disease, boat strikes, crushing by flood gates or locks and entanglement or ingesting of fishing gear.
The Columbus Zoo and Aquarium plays a significant role in the recovery of this important species by participating with other zoos, aquariums and government agencies in rescue, rehabilitation and release efforts. Over the last five years, the Columbus Zoo has also provided more than $224,000 to research, education and protection of manatee species worldwide.