PICKAWAY – Saturday is gearing up to be the start of fun events in Pickaway county.
Job and Family Services is hosting a diaper drive today 9-11 am in front of the JFS building in Circleville.
DORA, Designated Outdoor Refreshment Area has now kicked off in the downtown Circleville area, where you can shop drink your favorite beverage and shop.
While you are down there check out Prints and Drawings by Steve Spicer Exhibition. Water-colored block prints and pen and ink drawings set the scene. The ArtsaRound Gallery on the Original Circle welcomes Circleville local and Pumpkin Show-winning artist Steve Spicer for a one-man gallery show and event. The show, titled "Prints and Drawings by Steve Spicer," will start April 1st and run Fridays, Saturdays, and Sundays through April 24th, 2022.The gallery is located at 135 W. Main Street in the heart of Historic Downtown Circleville. An artist Meet and Greet Gala will be held Sunday, April 3rd, from 1 to 4 pm.
If you are a bit of a game nerd then there's a very interesting event going on at OCU today starting at noon. OCU Christ & Comics Expo will be a collection of local comic book, sci-fi/fantasy, and other nerd cultures. Hosted by OCU's student club: Nerd Herd, this event aims to bring Christian Nerds together for a community event like no other! This will include MTG events, Dungeons and dragons, and board games. There will be vendors also.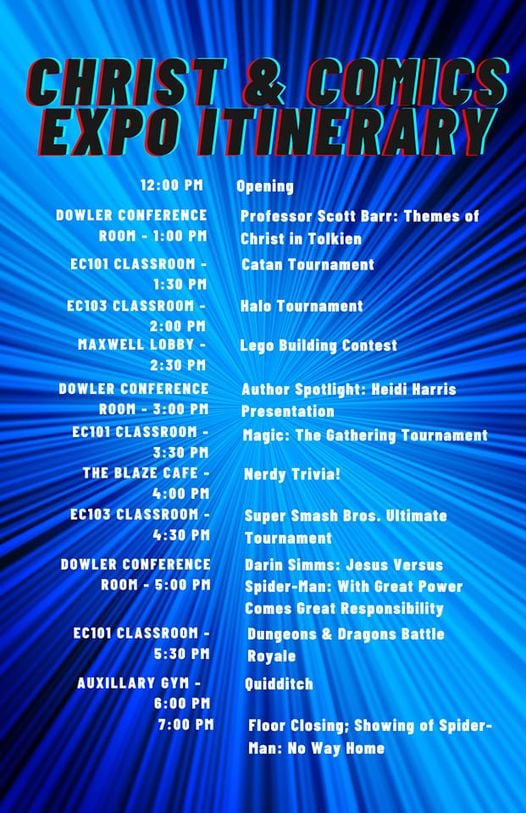 Take back the strip event will kick off its third year in downtown Circleville around 5 pm this rolling car show will run up and down the streets of Court street in the downtown area. You can either be part of the event by driving whatever you want or grab a chair and find a spot along the route and enjoy the sights and sounds of cars.