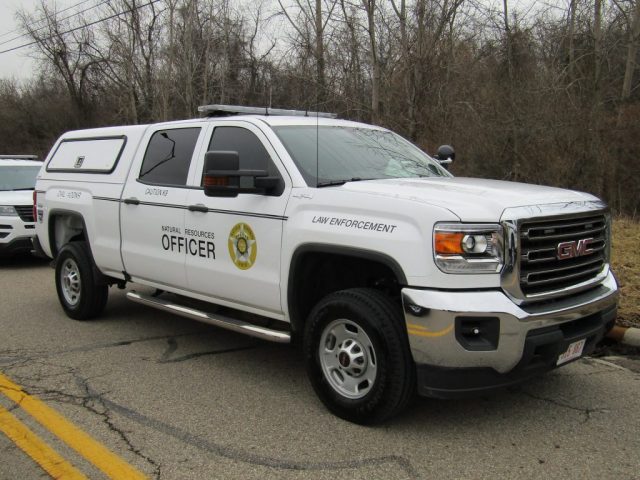 OHIO – Field Reports from Wildlife Officers in Ohio
Central Ohio – Wildlife District One 
State Wildlife Officer Austin Levering, assigned to Knox County, received a complaint in November 2022 of a white-tailed deer that was shot from the roadway. Later, Officer Levering received information from a hunting without permission incident which had the same vehicle and subject description. Officer Levering and State Wildlife Officer Brad Kiger, assigned to Franklin County, determined one individual was responsible for both incidents. The suspect was found guilty of hunting without permission, hunting with the aid of a motor vehicle, hunting without a valid license, and hunting with a firearm during archery season. He paid a total of $860 in fines and court costs, was sentenced to 60 days in jail suspended, and was placed on probation for one year.
In January, State Wildlife Officer Chad Grote, assigned to Marion County, taught Pleasant Elementary School's fifth graders about wild animals and their adaptations. The students asked Officer Grote questions and a few students dressed up as wild animals to highlight those species' adaptations. Educating the public about natural resources is just one of the many duties wildlife officers perform.
Northwest Ohio – Wildlife District Two
In March, State Wildlife Officer Matt D. Smith, assigned to Huron County, received a complaint of trapping on private property without permission. Officer Smith investigated the report and spoke with an individual from a nearby residence. Officer Smith recognized the individual from a prior hunting without permission complaint. The individual was found to have set two box traps and trapped a raccoon out of season. The suspect had not purchased a fur taker permit or hunting license that year. The man received two summonses and was found guilty. He paid $321 in fines and costs.
State Wildlife Officer Mike Ohlrich, assigned to Fulton County, conducted a mid-winter waterfowl survey in Fulton County in January. Throughout the county, he counted more than 700 Canada geese and 89 mallards. Wauseon Reservoir was the most diverse location he surveyed, with Canada goose, gadwall, mallard, canvasback, and goldeneye. Other sightings included a group of 19 trumpeter swans, several bald eagles, and five sandhill cranes.
Northeast Ohio – Wildlife District Three
State Wildlife Officer Jason Warren, assigned to Lake Erie, received a report of a bald eagle stuck in the rocks of the Conneaut break wall. Officer Warren responded to the area but was unable to see the eagle from shore. The location reported by the caller was inaccessible from shore or by larger boats due to a sandbar. Officer Warren used a kayak from a nearby rental facility and paddled out to the break wall, where he discovered that the eagle had freed itself.
During the 2022-23 white-tailed deer archery hunting season, State Wildlife Officers Scott Cartwright and Nicholas Turner, assigned to Carroll and Harrison counties,
respectively, received a complaint regarding a hunter who used a rifle to kill a buck while hunting without permission. After an investigation, the individual was charged with seven violations and was found guilty in Carroll County Municipal Court. He was given a two-year hunting license suspension, 30 days in jail, and one year of probation. He also forfeited illegally possessed deer mounts and was ordered to pay $3,336.25 in fines, costs, and restitution.
Southeast Ohio – Wildlife District Four
State Wildlife Officer Ryan Donnelly, assigned to Athens County, received a call from an individual who observed someone shoot a deer from the road. The caller provided identifying information about the suspect's vehicle. Officer Donnelly patrolled the area and located the truck. He determined that the truck's owner had hunted from the road. The suspect was charged with hunting a deer with the aid of a vehicle and hunting without permission. The shooter was fined $300 in Athens Municipal Court.
Southwest Ohio – Wildlife District Five
A hunting without permission case recently made its way through court. The suspect was previously caught poaching and hunting without permission by State Wildlife Officers Gus Kiebel, assigned to Adams County, Jason Keller, assigned to Warren County, and Matt Roberts, assigned to Highland County, as well as Wildlife Officer Program Manager Eric Lamb and State Wildlife Investigator Joel Buddelmeyer. While under a three-year hunting license revocation, the suspect was again caught hunting without permission and charged. He was picked up on a warrant and received 46 days of jail time, which are currently being served, and forfeited his hunting equipment, a tree stand, and a compound bow.
State Wildlife Officer Jason Keller, assigned to Warren County, and K-9 Officer Scout helped Wildlife Communications Specialist Kathy Garza-Behr dedicate Ohio's 201st Wild School Site. Chess Christian Pre-school recently became the seventh Wild School Site in Warren County. The pre-school added an outdoor classroom featuring a story area with native plants. The school plans to enhance their grounds with a walking trail and bird nesting boxes.