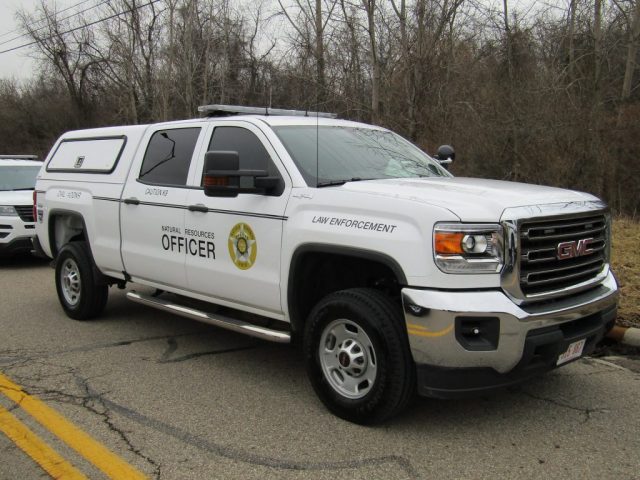 Central Ohio – Wildlife District One
State Wildlife Officer Brian Motsinger, assigned to Union County, recently issued a citation to an individual who purchased a deer permit after harvesting a white-tailed deer. About a week after the individual's court date, Officer Motsinger received a phone call from the same individual, a landowner. The individual harvested a deer that ran onto a neighboring property and was concerned about committing a violation, since the deer died on the neighbor's property and the hunter did not have a deer permit. Officer Motsinger explained that a permit was not needed if the deer was shot on the landowner's property and died on another property. Officer Motsinger reminded the hunter to get permission from the landowner before tracking the deer.
State Wildlife Officer Jade Heizer, assigned to Fairfield County, received a complaint about white-tailed deer carcass parts that were dumped in a creek. Officer Heizer contacted a suspect and determined the deer had been legally obtained, but carcass parts had been illegally dumped in the stream after processing. The suspect was issued one misdemeanor summons for illegal dumping in waters of the state.
Northwest Ohio – Wildlife District Two
In June 2022, State Wildlife Investigator Jason Hadsell contacted anglers who were returning from Lake Erie to the Fairport Port Authority boat launch. He contacted one vessel with five occupants who claimed to have reached their daily limit of six walleye per person. Officer Hadsell found that all five of the men had valid fishing licenses but counted 32 walleye in their cooler. He issued a summons to the boat's owner for possessing more than the daily limit of walleye. The fisherman paid $165 for the violation and the two extra fish were forfeited.
In late March 2022, State Wildlife Officer Nathan Cass, assigned to Crawford County, was patrolling near Fremont. Officer Cass noticed a male wild turkey strutting in the front yard of a residence. Officer Cass pulled over for a closer look because he had received complaints of an aggressive wild turkey in the area. The wild turkey sprinted toward his truck and began pecking at it. Officer Cass exited the truck to scare the turkey away, and the bird attacked the officer. He determined this turkey would fare better in a less urban area where it would have fewer interactions with people. Officer Cass captured the turkey and transported it to a wooded rural area, where it was released with permission from the landowner.
Northeast Ohio – Wildlife District Three
In November 2022, State Wildlife Officer Evan Huegel, assigned to Ashland County, received a call from the Turn-In-A-Poacher (TIP) hotline about a Tennessee resident guiding other nonresident hunters in Ohio. The group was accused of hunting white-tailed deer without hunting licenses or deer permits. Wildlife Law Operations Manager Jeremy Carter and Wildlife Officer Supervisor Brennan Earick conducted surveillance. The guide was found to have hunted deer without a license or permit. The other hunters had obtained the proper licenses and permits. A compound bow was seized as evidence and the individual was issued citations for hunting deer without a valid nonresident hunting license or deer permit. The individual paid $337 in fines and court costs. Reports of wildlife violations can be submitted anonymously via the TIP hotline at 1-800-POACHER (1-800-762-2437).
In October 2022, State Wildlife Officers Zach Hillman and Matt Madgar, assigned to Cuyahoga and Geauga counties, respectively, received a complaint that an individual had committed several white-tailed deer hunting and tagging violations. The officers contacted the individual, who had just served a three-year hunting license revocation, and discovered several violations. The officers seized the rack and venison of an eight-point buck. The suspect was issued three misdemeanor summonses for the violations, was found guilty, and was ordered to pay $1,243 in fines and costs. Additionally, his hunting privileges were revoked for an additional three years.
Southeast Ohio – Wildlife District Four
During the 2022 white-tailed deer gun hunting season, State Wildlife Officer Chris Dodge, assigned to Hocking County, patrolled a portion of Wayne National Forest. Officer Dodge contacted a hunter along a narrow road. Officer Dodge noticed that the hunter had dried blood on his hands. The hunter, who was from out of state, had harvested a deer and showed it to Officer Dodge. The deer had been butchered and bagged and a six-point deer head had been removed. The hunter had not filled out his deer permit, nor had he game checked the deer. The hunter was issued a summons for skinning and removing the head of a deer before game checking the animal. The hunter pleaded guilty to the charge and paid $275 in fines and court costs in Hocking County Municipal Court.
State Wildlife Officer Chris Gilkey, assigned to Meigs County, and K-9 Officer Mattis were asked to assist State Wildlife Investigator Wes Feldner in locating evidence in Monroe County. A house had been shot three days earlier. Officer Gilkey and K-9 Officer Mattis searched a nearby timber stand where it was expected the shot originated. While searching the area, the landowner found a shotgun shell and K-9 Officer Mattis confirmed that it had recently been fired. The officers searched for additional evidence to establish a direction of fire. K-9 Officer Mattis soon found the small wad cup from the shotgun slug, which established the direction of the shot toward the house.
Southwest Ohio – Wildlife District Five
State Wildlife Officer Brad Buening, assigned to Mercer County, investigated a report of white-tailed deer baiting at Prairie Creek Wildlife Area. It is illegal to bait deer on lands owned by the Ohio Division of Wildlife. Officer Buening located a person hunting near the reported bait site. Upon further investigation, Officer Buening found the suspect had killed more than the allowed number of antlerless deer on public hunting lands. In addition, the suspect left trash at one of the locations where a deer was harvested. The individual was charged with two violations and subsequently found guilty in Celina Municipal Court. A total of $650 in fines and costs was paid to the court.
Law Enforcement Operations Manager Eric Lamb and Field Supervisor Matt Hunt recently attended the annual Conservation Club Competitive Partnership Grant meeting at Spring Valley Wildlife Area Shooting Range. This program is designed to encourage participation in wildlife-related recreation activities by providing funding through a competitive grant program. The officers answered questions and spoke with local conservation club members about upcoming events and outreach.