BRYAN, OHIO – Eight 65-foot-tall Dum-Dum lollipops will soon be painted on
the water tower in Bryan, Ohio.

Base coat paint began on the water tower on the northwest side of Bryan a month ago, in preparation for a hand-painted mural of eight Dum-Dum lollipops, each more than 65 feet tall, surrounding the circumference of the main water tank.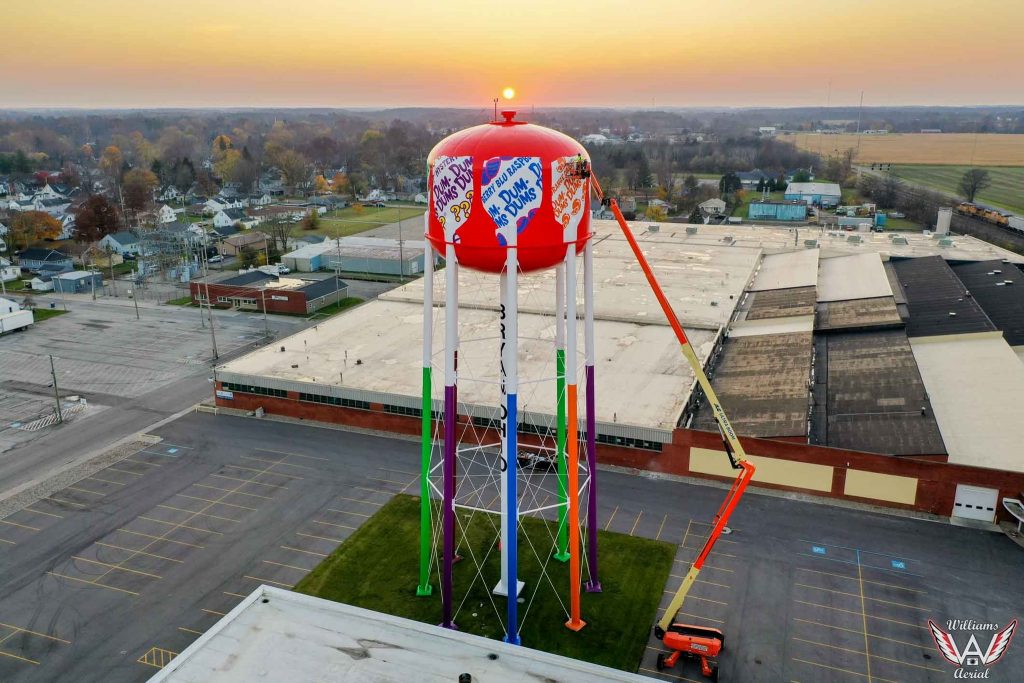 The tower is currently being painted by local Eric Henn, an award-winning muralist who has been painting water towers and "super- size" murals for more than 30 years, and whose work has been featured all over the world, from Los Angeles to Australia. His awards include "Artist of the Year," "Muralist of the Year" and "Tank of the Year", among others.
Spangler Candy Company and the Bryan Board of Public Affairs (BPA) have collaborated to redesign the water tower and create a landmark attraction for the community. The 400,000-gallon water tower was originally constructed in 1946 and stands 146 feet high.
Spangler Candy Company also intends to provide a viewing station on the company's property for viewers and visitors to take photographs and "selfies".
The company also is presently developing Spangler Candy World, a new destination attraction, on the east side of Bryan's downtown square. Spangler Candy World, scheduled to open in 2023, promises to attract visitors to Bryan year-round, and the newly designed water tower will enhance its impact.
The water tower is owned by the City of Bryan, and is located on West Mulberry Street in the middle of the Spangler Candy Company campus. It is most visible from West Mulberry Street and from Paige Street in Bryan.